Top Utah lifestyle blog, Among the Young, features the Best Browned Butter cookies with Red Velvet Oreos and M&Ms. Click here now for all the details and the full recipe!!
I'm a SUCKER for Valentines Day – not the holiday itself, just the treats. Sugar cookies, chocolate, candy, browned butter cookies … I mean, how can you go wrong? My mom always made us our own ginormous sugar cookie for Valentines Day. No joke – it was bigger than our heads, it was decorated so cute and it said our names on it. (That meant no sharing and I loved it!)
Browned Butter Cookies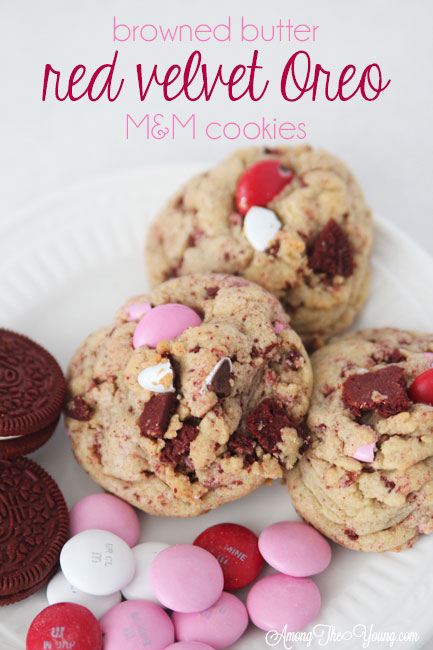 There are Red Velvet Oreos?
As much as I LOVE sugar cookies, there are so many other seasonal treats for Valentines Day. One of my all time favorites is the Red Velvet Oreo. At one time, these Oreos were hard to find – maybe even limited edition, but every Valentines Day you can usually find them at the store. They are DIVINE. Cream cheese frosting and a red velvet Oreo cookie …. Say no more.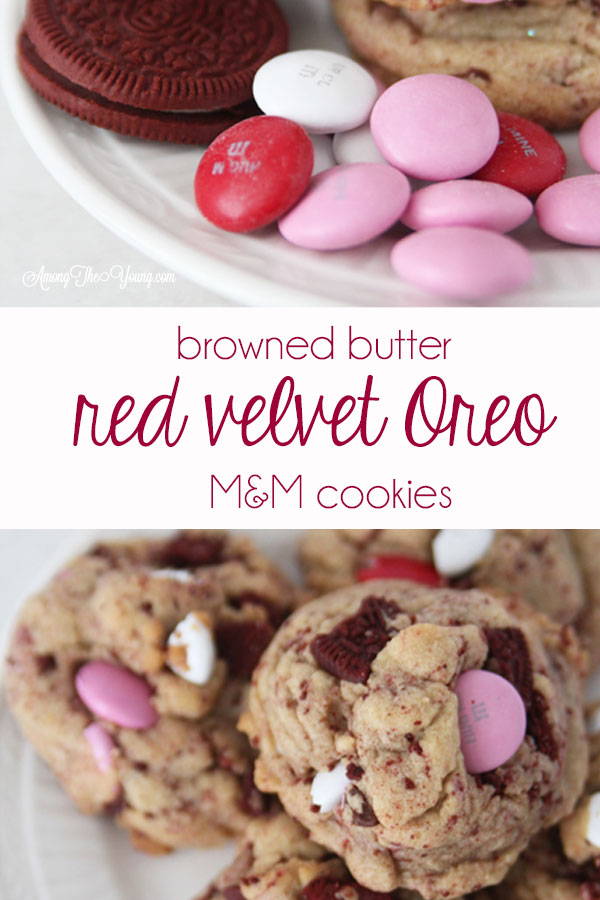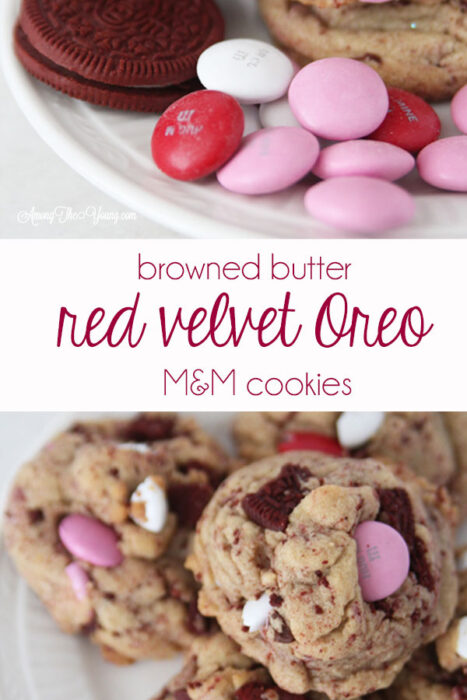 I wondered how these red velvet Oreos would hold up with my delicious Cookies and Cream browned butter cookies so I had to give it a shot.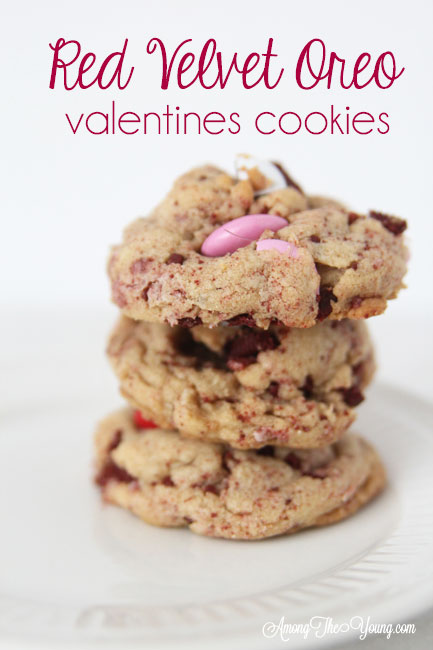 Plus, I found Valentines colored M&Ms at the store. Normally I'm a stickler for texture in my sweets, but something about the crunch of an M&M in a soft, chewy cookie is so delightfully nostalgic to me that I couldn't resist.
It wasn't until I got home that I realized I'd purchased the most massive M&Ms in existence.
Oh well.
They'd be fine! (I did end up chopping them up a little bit though so they wouldn't distract from the deliciousness of the browned butter cookie itself.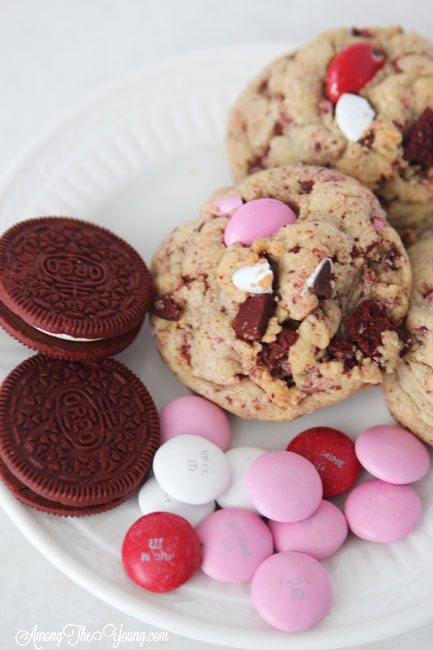 What are Browned Butter Cookies?
Let's start about what makes these cookies really shine: the Browned butter base. If you haven't tried a browned butter cookie before, you're for a treat. It's still soft and chewy, but there's a slight nutty flavor that makes the cookie so much more rich and flavorful.
How do I make browned butter?
First of all – I've been there. I've burnt the butter before – that was the worst thing that happened. It burnt and I tried again. Don't be scared – it's worth it! All of the recipes I've ever read about browning butter say to "stir until it gives off a nutty aroma." Well, guess what? I can't smell that well – no matter how hard I try, the butter always just smells like BUTTER. So I always just watch for the color. Your butter will turn from yellow to (you guessed it) brown!
Once you've reached that critical stage, remove your beautiful butter from the heat and pour into a glass (NOT PLASTIC – yes, I've made that mistake before) bowl.
You'll need to let it cool down. It won't take that long for it to reach room temp.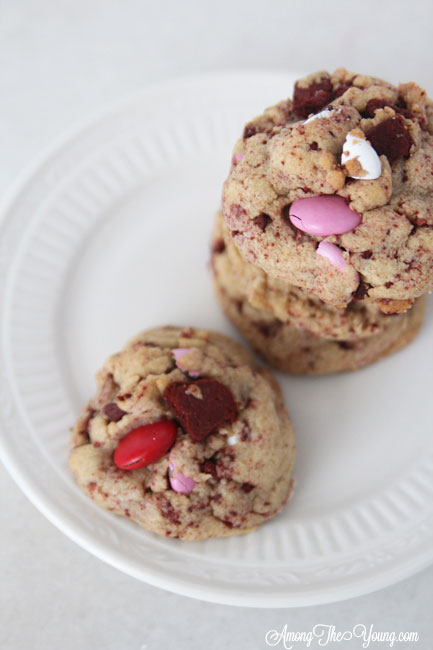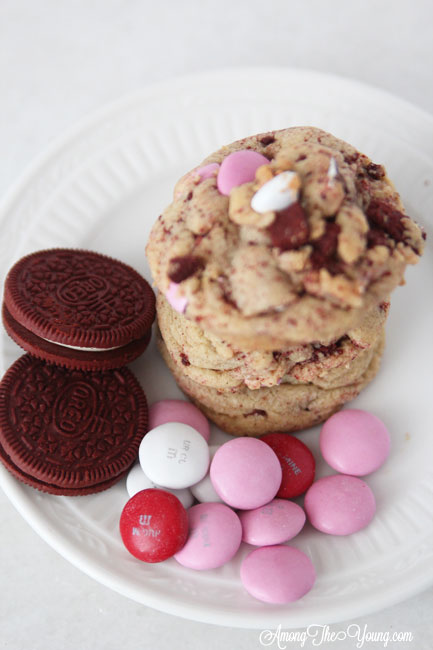 A few more tips:
*Crush your Oreos WITH the creme. I know, I know – but you can't get rid of that cream cheese creme. You just CAN'T. It adds to the overall sweetness of the cookie and is just YUM!
*Crush your M&Ms – this tip is ONLY if you buy the mega M&Ms like I accidentally did. If you bought regular sized M&Ms then disregard and add those babies as normal.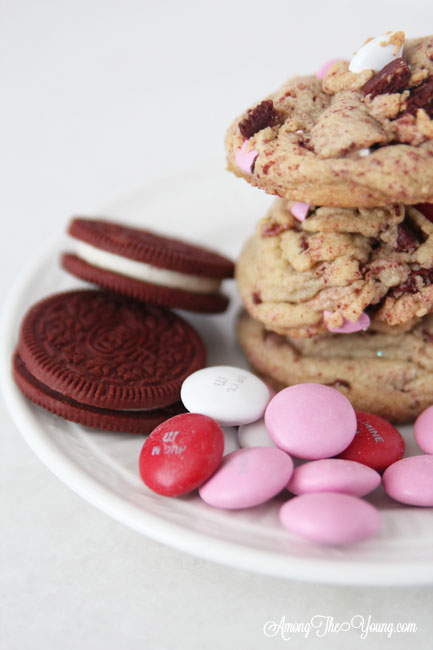 Ok – if I haven't scared you out of making these cookies … If you're still with me, then congratulations. You are about to have your mind blown by these cookies.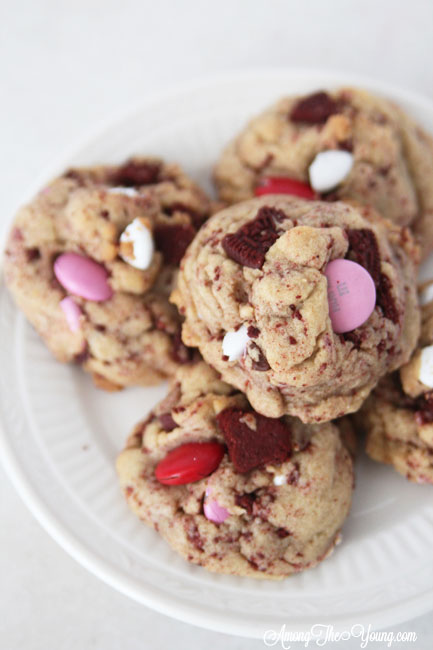 The nutty browned butter
+
the Red Velvet Oreos and Cream Cheese Creme
+
the crunchy M&Ms
makes for the perfect combination of cookie that there ever was. Every bite is a delight!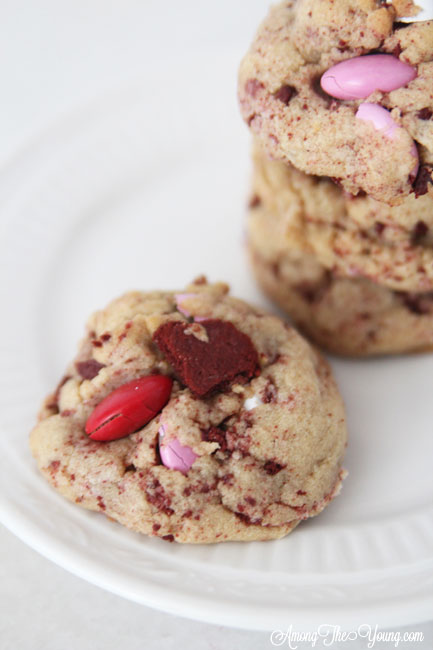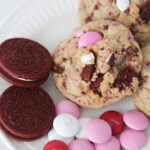 Browned Butter cookies with Red Velvet Oreos and M&Ms
Ingredients
2 1/4

cup

flour

1 1/4

tsp

baking soda

1/4

tsp

salt

2

sticks

butter

(1 cup)

1 1/4

cup

brown sugar

1/4

cup

sugar

1

egg

large

1

egg yolk

1 1/2

tsp

vanilla

1

TB

greek yogurt

1

cup

Red Velvet Oreos

crushed

1

cup

Valentines M&Ms
Instructions
Crush Oreo cookies; set aside

Mix flour, soda, salt in bowl; set aside.

Melt butter in a saucepan over medium. (It will begin to foam - continue stirring)

Butter will start to brown and give off a nutty smell (or just go by the browned color!)

Transfer butter (immediately) to a glass bowl to prevent burning.

Set aside; let cool for a few minutes.

In a mixer, combine butter and sugars.

Beat in egg, yolk, vanilla, and yogurt.

Slowly add dry ingredients - beat on low.

Gently fold in crushed Oreos and M&Ms

Scoop into 1 1/2 TB balls.

Bake at 350 for 9-10 minutes.
Suggested tools:
Need some other delicious ideas for Valentines Day? My girl Ashlee has an amazingly decadent chocolate ice cream. I'd highly recommend Amber's blog has a raspberry cheesecake cookie that looks to DIE for and Yvonne linked 75 other treat options for Valentines Day. You're welcome!!
Do you have a browned butter cookies recipe that you love making?  Let me know in a comment below!