Guys – Caramel Popcorn cake. It's a thing. Really. And it's SO DANG addictive and easy!

I have a love / hate relationship with caramel popcorn. I mean really though. I'm very particular with how a good caramel should taste and how chewy it should be. In MY humble opinion, caramel should be rich and chewy. Not so chewy that it gets stuck in your teeth, but not so hard that you might break your teeth. It's a tricky line to play with.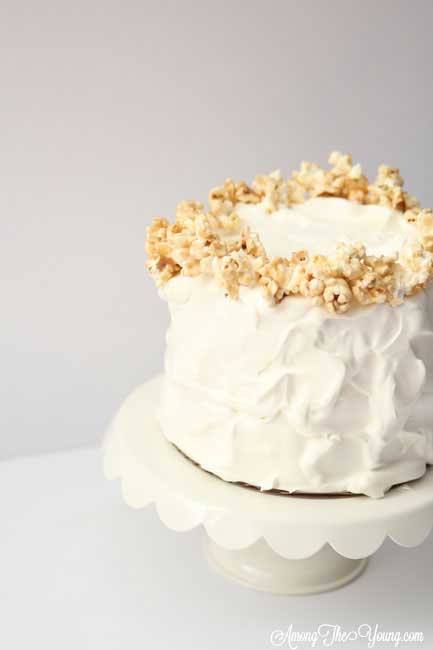 Plus, I've got a confession: I'm lazy. I want a REALLY easy caramel popcorn. So when I found THIS Caramel Popcorn recipe on Butter with a Side of Bread I was super intrigued.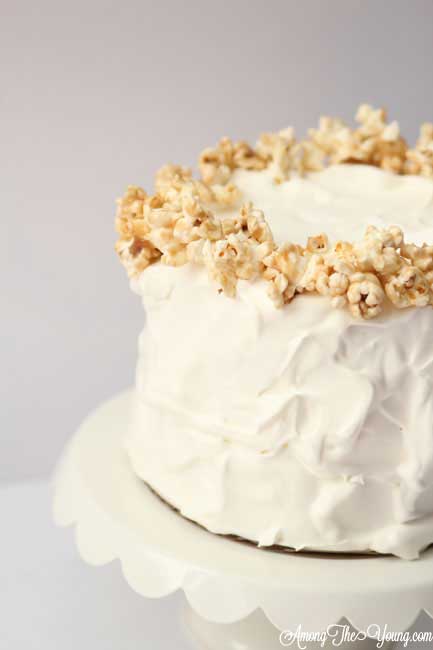 Rewind a few years ago – Handsome and I attended a REAL Salt Lake Soccer game. We had box seats and were totally spoiled. I mean dinner, popcorn, and a DESSERT TRUCK came to our room. Can you say HEAVEN?! Pick whatever you want from delicious cakes, cookies, candies, etc and enjoy. Anyway – one of the cake options was a salted caramel popcorn cake. I know, right?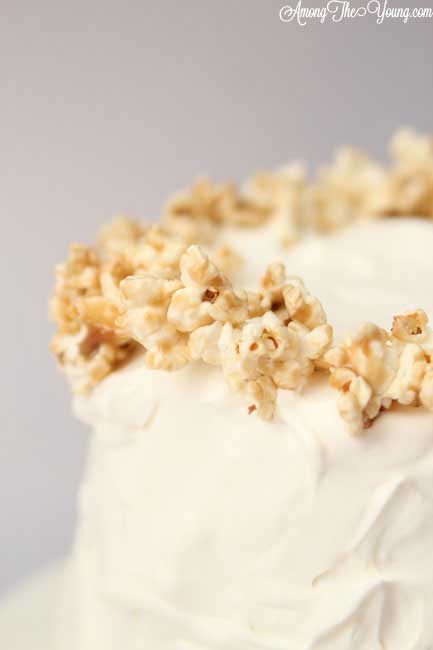 White cake.
Fluffy whipped frosting.
Caramel Popcorn.
Voila! Caramel Popcorn Cake.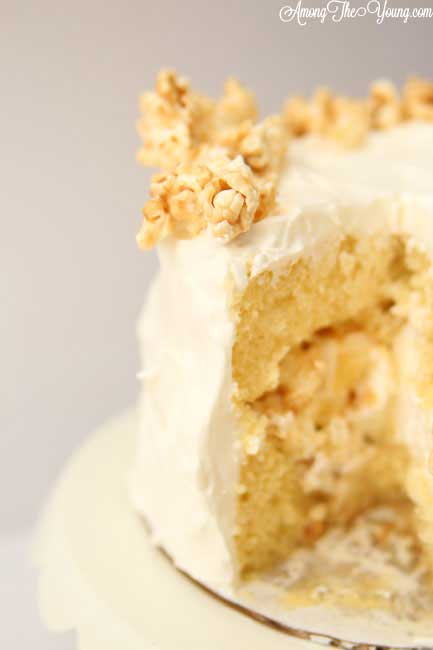 I had wanted to re-create this cake for a long time, but my lace of "awesome caramel popcorn recipe" was a serious problem. Once I found the Butter with a Side of Bread recipe, there was NO DOUBT in my mind that I could make this cake – and BETTER than what I'd had at the REAL stadium.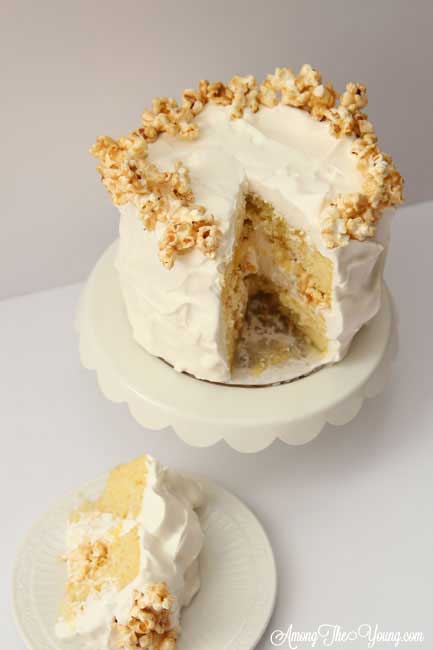 The HARDEST part of this Caramel Popcorn Cake recipe? I'm not going to lie to you: NOT EATING ALL THE CARAMEL POPCORN BEFORE IT GOES IN/ON YOUR CAKE! The struggle is real people! The popcorn is that dang delicious too!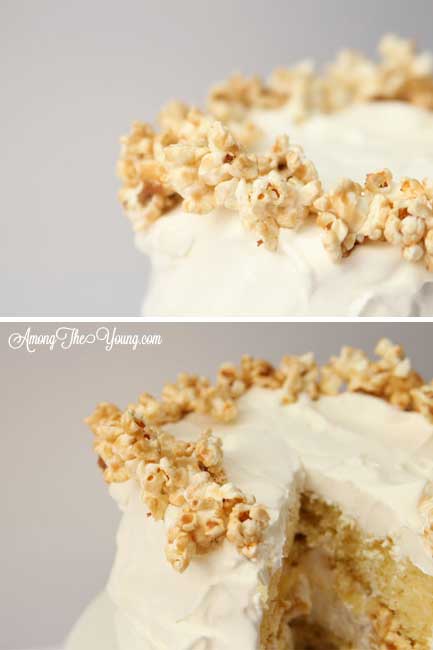 No recipe is included because it's totally the easiest. Use any white cake recipe (I might have even used a box of white cake mix for this one – gasp! I KNOW!). Choose I whipped fluffy topping – I like Pastry Pride, Cool Whip, or just regular old whipped cream. Then follow the Caramel Corn recipe from Butter with a Side of bread. Assemble and prepare to be AMAZED and how the flavors of sweet frosting, chewy caramel, and fluffy white cake all work together to become one of the most dangerous things ever!