Top Utah lifestyle blog, Among the Young, features the Best carrot cake cheesecake cake. It is dense and oh-so-flavorful. I don't even like carrot cake, but this is the exception to that rule!
It's no secret that I love cake. I'll take my cinnamon sour cream cake, Caramel popcorn cake , or a fluffy chocolate cake ANY DAY.
However, I'm PICKY with cake.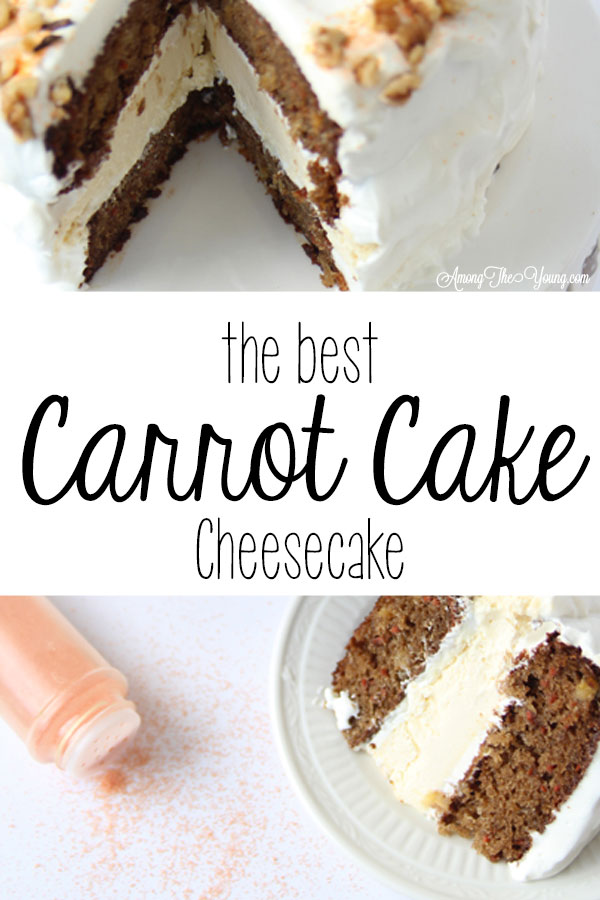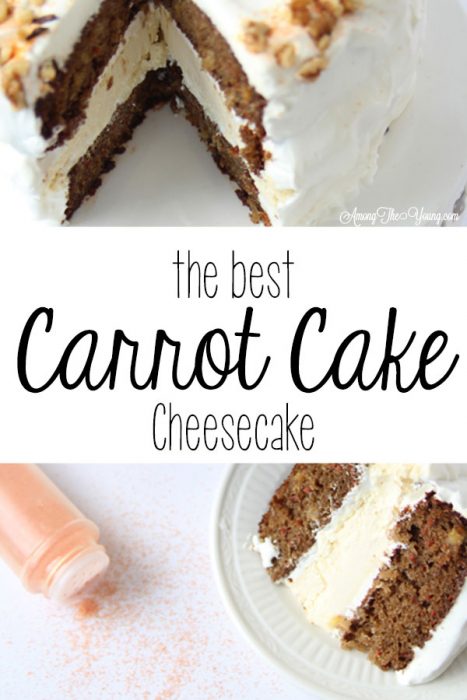 It should come as NO SURPRISE that my cakes need to be AMAZING if I'm going to eat them/wear them later. They've gotta be moist (yes, that word is fine to use when we are referring to cake!) and delicious.
Carrot Cake Cheesecake
Carrot cake is one of the few cakes I HAVE NEVER LIKED. It typically has a weird texture. Plus, there are all kinds of hidden nasty things: pineapple chunks? raisins? nuts? HARD PASS for me.
One day I had the MOST RANDOM CRAVING for cream cheese frosting and spice cake, so I took that as the opportunity to try and make a carrot cake that even I would eat. The challenge was a big one. I was ready.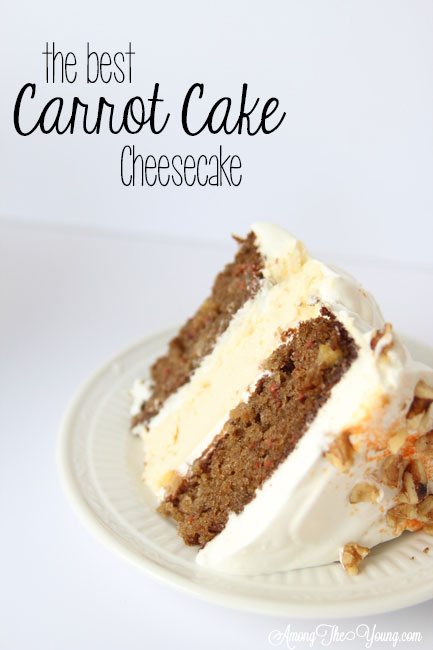 I started with Alton Brown's carrot cake recipe. (If you don't know, I adore Alton. You can read my letter to Alton here, because I love him.) This cake seemed pretty tame and straightforward. Also, it was great that it only made one 9″ round cake, so if it was gross I wasn't out an entire cake.
Honestly, the cake wasn't bad. I was surprised. However, it wasn't great either. The texture was spongey, a little dry, and a lot off-putting. No likey. I involved several carrot cake experts and they weren't impressed either.
So I went back to the drawing board.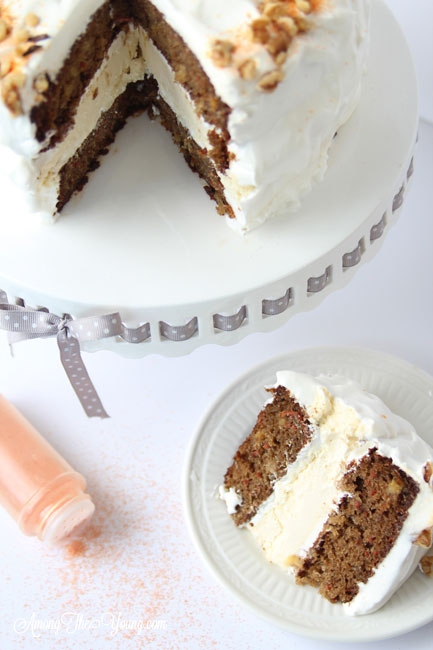 As I was researching carrot cakes, I saw most of them had pineapple pieces in the recipe. From the beginning, I'd been ADAMANT – I DID NOT want to put nasty pineapple in my carrot cake! Try as I might, I started to see a pattern and after my dry Alton carrot cake, I came to the conclusion that the pineapple MIGHT just be a necessity.
So I sucked it up. I added the dang pineapple to the cake.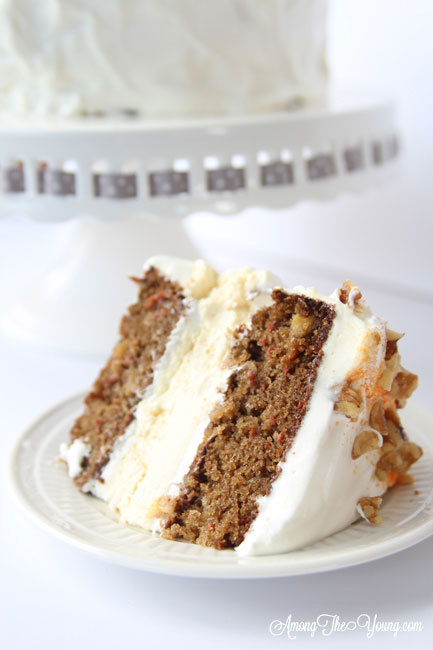 Note: the recipe calls for CRUSHED pineapple pieces, not full on pineapple tidbits. Also, I do vaguely recollect blending my pineapple down into even smaller bits…. just sayin. 😉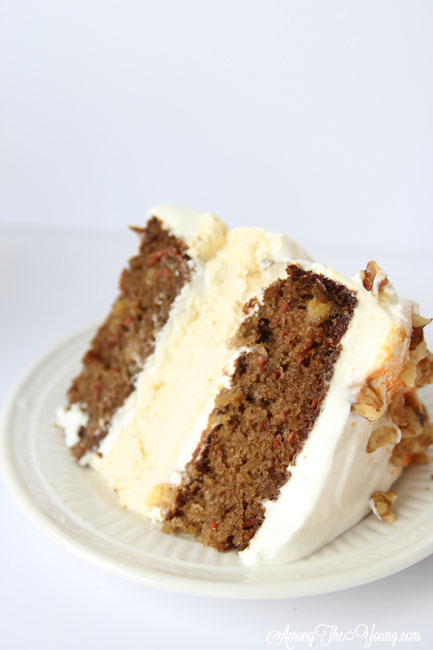 The results? WOW.
I don't even LIKE carrot cake and this was JUST WOW.
Dense, moist, so delightful – it would pair PERFECTLY with your favorite cream cheese frosting.
Lucky for me – I was taking this one step farther: we were making this carrot cake into a carrot cake cheesecake cake. What could be better than THAT?!
Carrot cake cheesecake cake
I have had a love for cheesecake cakes for a LONG time. Remember my chocolate Oreo cheesecake cake? or Chocolate peanut butter? My favorite might be my red velvet cheesecake cake … as you can see, I'm obsessed with cheesecake and cake! (there are a bunch more if you simply search "cheesecake" on the search bar – it's embarrassing!)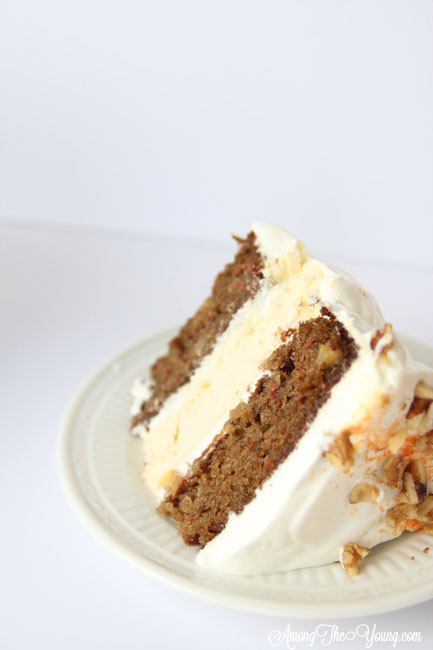 The thing that makes this carrot cake cheesecake cake (or any of my cheesecake cakes) SO good is the balance of moist cake, creamy cheesecake, and a light whipped topping. It's divine. No bite feels like it's "too much" and the flavors are just right. I'm literally drooling as I write this. #cheesecakeaddict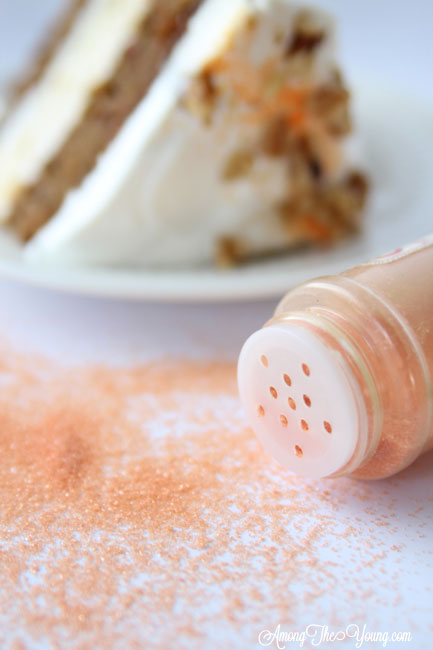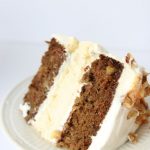 Carrot cake cheesecake cake
Ingredients
For the Carrot Cakes (two 8" or 9" rounds)
1

can (8oz)

crushed pineapple

drain, save juices, blend more if desired!

4

eggs

2

C.

carrots

shredded

1

C.

sugar

1

C.

brown sugar

1

C.

canola oil

2

C.

flour

2

tsp

baking soda

2

tsp

cinnamon

1/4

tsp

salt

3/4

c.

walnuts

chopped
For the cheesecake (one 8" or 9" round)
20

oz

cream cheese

room temperature/ softened

3/4

C.

sugar

1/2

TB

vanilla

1/4

tsp

salt

2

large

eggs

1/2

C.

sour cream (or greek yogurt)
Instructions
For the Carrot Cakes:
Grease a 9x13 or two (8" or 9") round pans.

Drain pineapple and reserve 2 TB juice. (If desired, after draining, blend the pineapple into smaller chunks!)

In a large bowl beat eggs, carrots, sugars, oils, drained pineapple, and 2 TB juice.

In another bowl whisk flour, soda, salt.

Gradually beat into carrot mixture.

Bake 35-40 min or until toothpick comes out clean.
For the Cheesecake:
Prepare you springform pan by wrapping the bottom disk in sticky/clingwrap. Attach the bottom to the rest of the pan and tin foil around the sides.

In an electric mixer, beat cream cheese on medium until fluffy, scraping down the sides.

Beat in vanilla, salt, and eggs (one at a time).

Pour filling into the springform cake pan.

Put springform pan on a cookie sheet.

Use your boiling water to fill the cookie sheet 1/2 way up the cookie sheet.

Bake until set in the center (about 45 min)

Remove pan from water; let cool about 20 minutes.

Run a knife around the edge.

Wrap entire cheesecake (with the sprinform bottom still attached) in plastic /cling-wrap.

Freeze until ready to use.
Other AMAZING friends who make the best cake? Of course Ashlee Marie – her chocolate sour cream cake is perfect for any occasion!
My friend Aimee has a chocolate and peanut butter bundt cake that will knock your socks off. Doesn't that looks so rich and delicious?
Finally, my friend Alli has a BOMB cake for ONE – say no more. Chocolate, peanut butter, and NO SHARING?! I am SO IN.
Products used:

Are you a fan of carrot cake cheesecake?  Let me know in a comment below!