Top Utah food blog, Among the Young, features the best easy Tres Leches recipe. It's creamy and perfect for any fiesta! Keep reading for the recipe.
This easy tres leches recipe came from my sister – she served her mission in the San Diego area and knows all the best Mexican food down in Cali. She brought home some of her favorite recipes from when she served and they are treasures. Delicious treasures.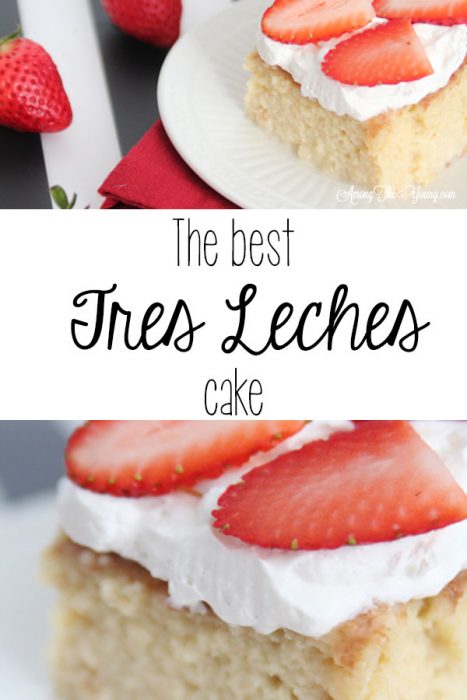 Easy Tres Leches Recipe
I LOVE Mexican food – it's one of my favorites. Tacos, burritos, quesadillas, flautas … you name it and I am IN.
However, the thing that's almost ALWAYS lacking after an amazing Mexican meal is dessert. I've tried cookies, cakes, pies, flan and none of them tickled my fancy. After I tried each of these desserts I found myself saying, "It needs more sugar!" Leave it to the Americans to over-sugar their desserts!
I used to be pretty irritated about the lack of delicious Mexican desserts, until I discovered Tres Leches.
True, the first time I had this cake was at Cafe Rio – so sue me. It was delightful. It didn't even occur to me that it would be even more delicious if I made it at home.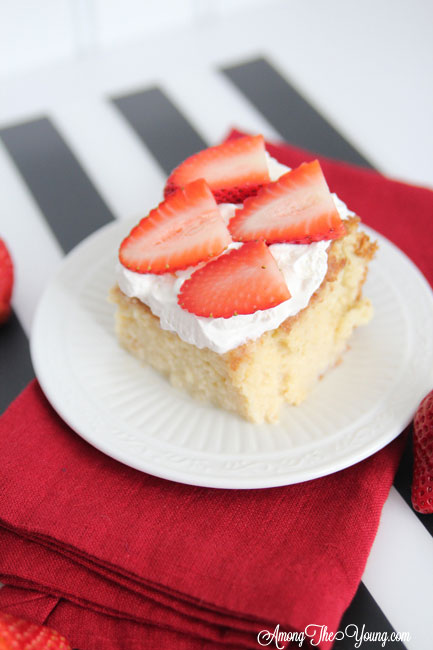 Translated, it means "three milks" – which is perfect because this cake is SOAKED in three different milks to create a creamy, milky cake.
I had only had Tres Leches at restaurants. They were pretty delicious, but it wasn't until my sister made this recipe that my mind was totally blown.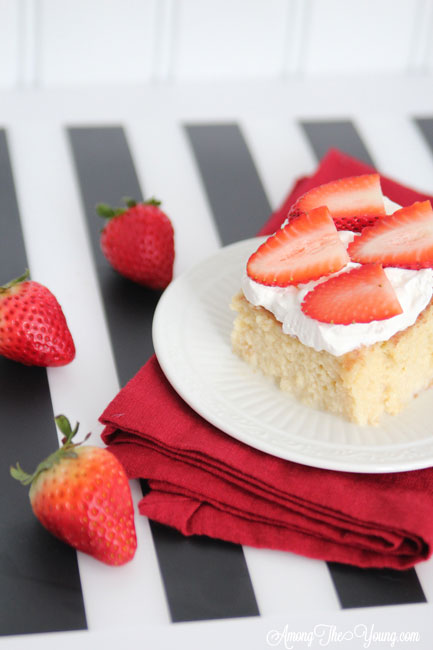 The flavors in this easy tres leches recipe are SO divine. They are spot on, creamy, and oh-my-goodness amazing. It's the perfect close to any delicious Mexican meal.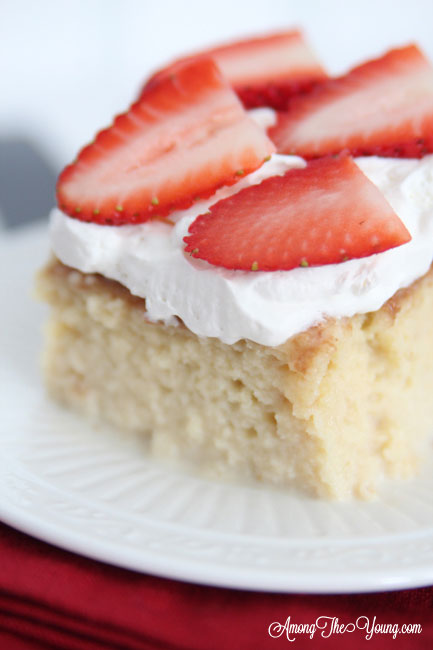 I like to top mine with whipped cream and strawberries, but that's probably because that's the way I had it at Cafe Rio. (Bless my heart!)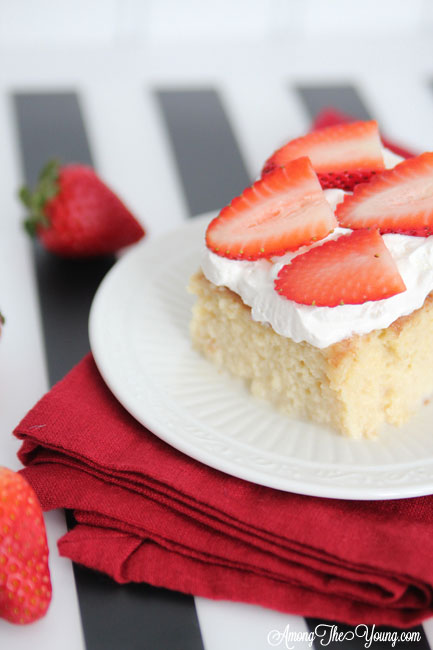 I have been known to attack this cake without toppings and it's just as amazingly delicious.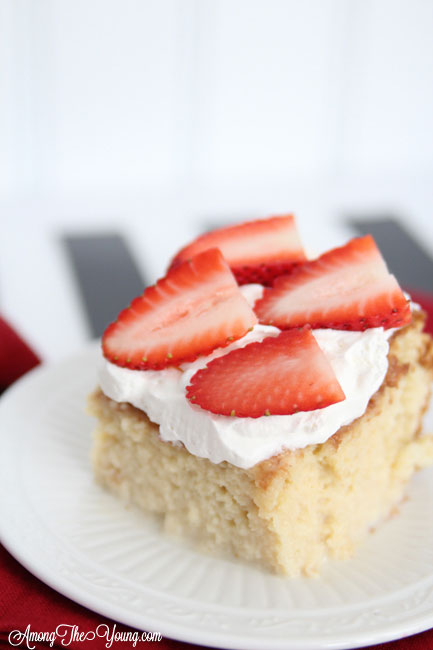 So tell me – have you had Tres Leches before? If so, did you like it? I know for some people the texture of this cake is super off-putting (that's how I feel about flan, but that's another topic for another day!).
Easy Tres Leches recipe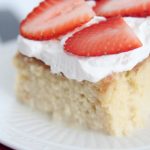 Tres Leches
Translated it means "three milks"- this cake is creamy, delicious, and packed with flavor. 
Ingredients
2

cups

sugar

10

eggs

separated

2/3

cup

milk

2

tsp

vanilla

2

cup

flour

3

tsp

baking powder

2 1/4

cup

whipping cream

2

(14oz) cans

sweetened condensed milk

2

(12 oz) cans

evaporated milk
Instructions
Grease a 15" pan. 
(NO it will not fit into a 9x13 unless you are cutting this recipe in half!)

Beat yolks with 1 1/2 c. sugar until light. 

Stir in milk, vanilla, flour, and baking powder. 

In another bowl, beat egg whites until soft peaks form. 

Gradually add remaining 1/2 cup sugar. 

In a large bowl, combine sweetened condensed milk, evaporated milk, and 1/4 cup of whipping cream. 

Pierce cake all over with a fork. 

Pour milks over the cake slowly and evenly. 

Whip the remaining cream.

Frost cake and garnish with strawberries. 
To complete your Mexican feast, you'll DEFINITELY need:
Horchata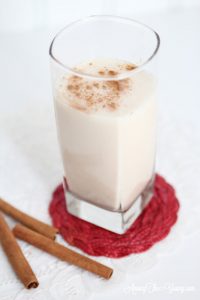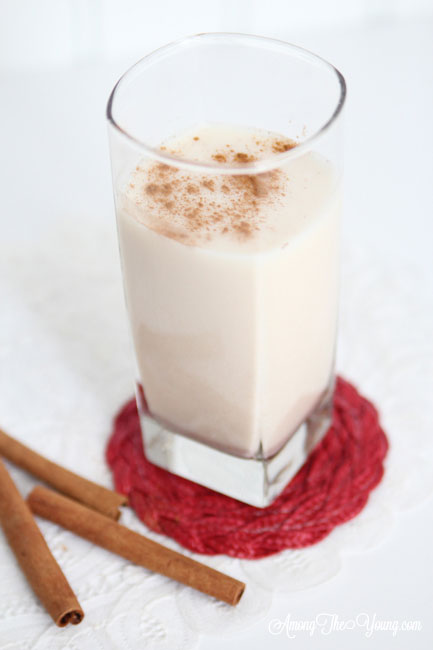 Salsa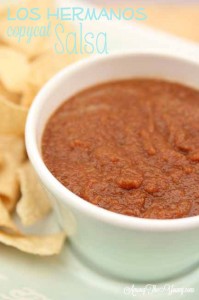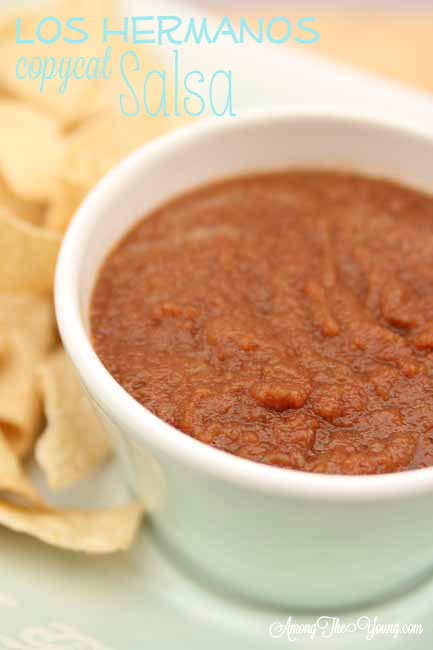 Be sure to check out my girl Aimee's Mexican pizza,
Amber's Mexican Corn on the Cob, and Ashlee's homemade tamales.
Do you have a easy tres leches recipe that you love?  Let me know in a comment below!