Magic bars. Guys. These two words changed my life. I'm so not even kidding right now.

You may be looking at my Hello Dolly recipe and thinking to yourself, "Gee Kaylynn, these two bars look EXACTLY the same except one different – the CRUST."
I know, I know, I know, but the Oreo crust CHANGES EVERYTHING. It changes a plain old Hello Dolly bar into a freaking Magic Bar. NO JOKE.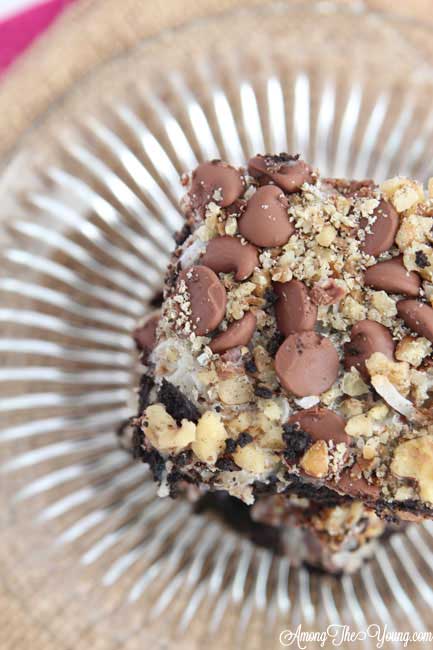 Growing up, my parents put all the kids into ski lessons. We loved it! Plus, it was a sweet free morning of skiing without kids for them. We'd meet up for lunch and ski the rest of the day together.
You'd think I'd remember the skiing and family time, which I do, but the most vivid thing in my memory revolved around FOOD.
1. Our ski instructor, Kirt, would always share his NutriGrain bars with us (my sister and me).
2. We'd always meet up for lunch afterwards (usually homemade turkey sandwiches with ground mustard). YUM.
3. We could ALMOST always pick a treat from the lodge.
I say "almost always" because ski food from the lodge was usually ridiculously overpriced. But fairly often we could pick out a hot chocolate or … magic bar.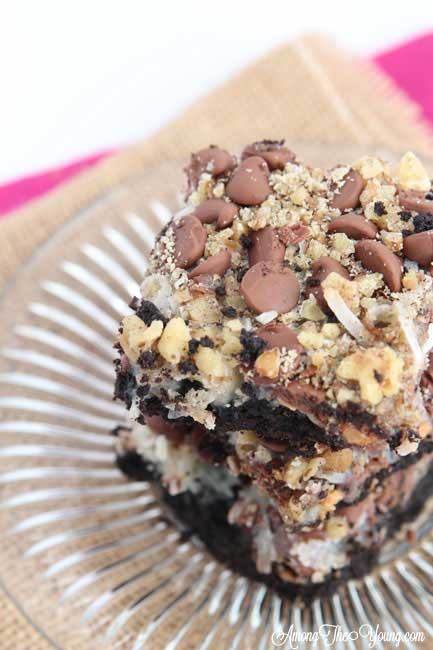 These bars were unlike anything I'd ever had as a kid. Even as a small child I appreciated texture and lots of different flavors. For years I tried to replicate it, but no luck. I'd take any chance I could get to run up to the ski resort and grab a few of these devil bars. I even begged friends who worked up at the resort to bring some home. It was pretty ridiculous.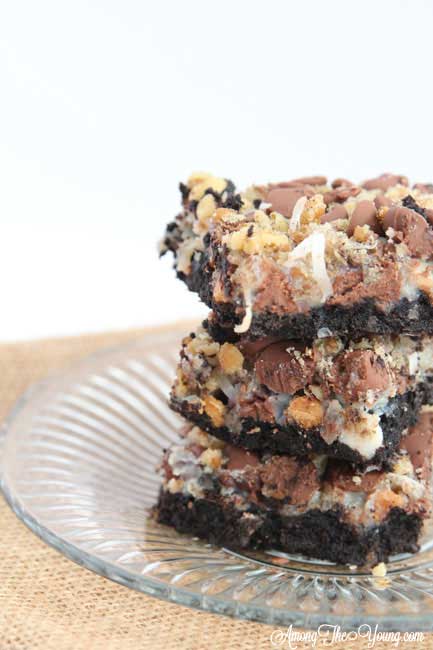 The secret – as I mentioned with the Hello Dolly bars – was TWOFOLD:
A) the crust. Guys, it HAS to be doubled. Even as I was making it I thought, "Double the crust may not be enough… maybe I should triple it?"
B) the OREOs. VERY IMPORTANT : YOU MUST REMOVE THE CREAM FILLING FROM THE OREO COOKIE. Now I'm sure you think I'm crazy. Are you kidding me? Peel off that glorious layer of sugary white filling? YES. I did it and I was cursing my own name, but it is WORTH it. SO SO worth it. The darkness of the cookie comes through – no sugary sweet filling. Plus, it crushes finer and just tastes better.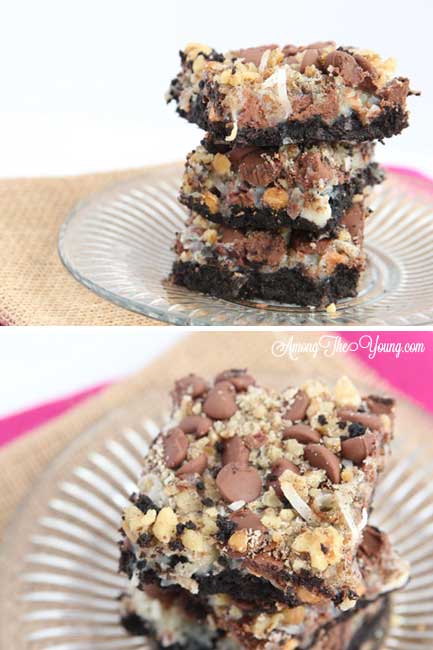 I'm not exaggerating when I say that I hoarded these bars for MONTHS and they tasted as fresh as could be. You might think I'm gross, but really, what can go bad? The chocolate chips? The walnuts? PUH-LEASE. They were as scrumptious on day 1 as they were month 3, and you can quote me.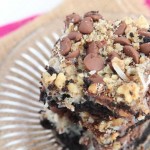 Magic Bars
Ingredients
1

c.

butter

melted

3

c.

Oreos

crushed - FILLING REMOVED

1

14 oz can of sweetened condensed milk

1/2

c.

butterscotch chips

1/2

c.

white chocolate chips

1 1/3

c.

coconut

1

c.

chocolate chips

1/2

c.

walnuts
Instructions
Remove filling from Oreos

Crush Oreos

Melt butter

Stir in crushed Oreos

Press into a 9x13 pan

Pour sweetened condensed milk evenly over crumbs

Tops with remaining ingredients in the order listed above.

Press down firmly

Bake 325 for 25 min

Cool

Cut into bars

Serve at room temperature