Top Utah lifestyle blog, Among the Young, features the most amazing fall dessert: Peach Delight withe graham cracker crust. It's simple and delish!
This Peach Delight with graham cracker crust recipe was originally published in November 2013 and updated in September 2021
So if you know me, you know that I'm not HUGE on peaches… I'm more of a raspberry girl (see my raspberry lime cookies, raspberry mini tarts, and raspberry lemon tiramisu). But this Peach dessert is just something else!
Peach Desserts
Peach Delight with graham cracker crust – ok ok ok, I'll be the first to admit that it's the LAMEST name EVER, but I was seriously struggling! Here's the full story: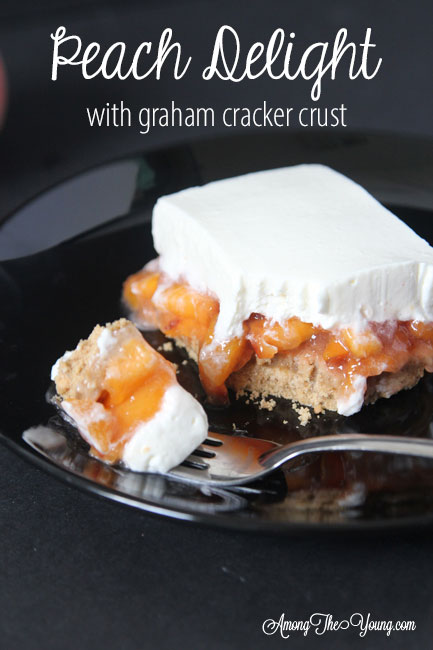 My dear sweet Grandma made this dessert a few years ago, and I inhaled it. Surprising, since I don't actually love peaches. It was literally addicting and I couldn't get it in my mouth fast enough. Moral of this story? My Grandma called it "Peach Dessert."
There, now my name (Peach Delight) doesn't seem so bad….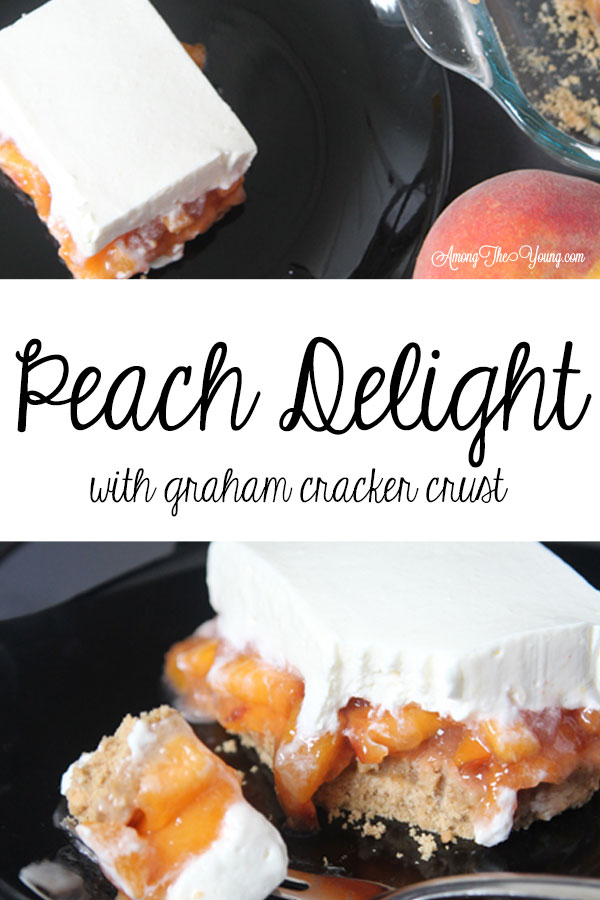 …unless you happen to be singing "Afternoon Delight" instead of "Peach Delight."
Shoot.
Recipe name fail.
I'm open to suggestions…Bueller? Bueller?
For now it stays. Peach Delight with graham cracker crust.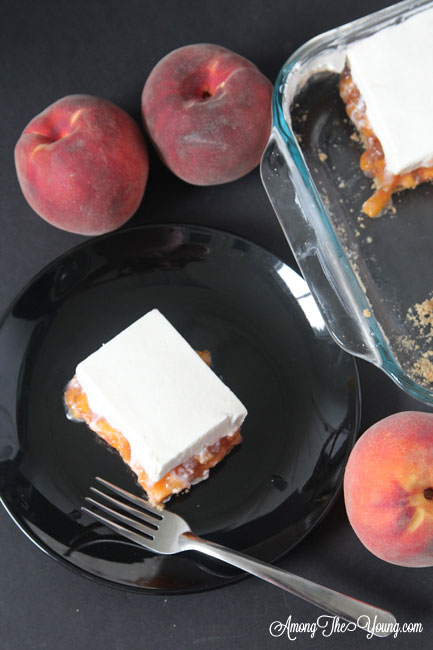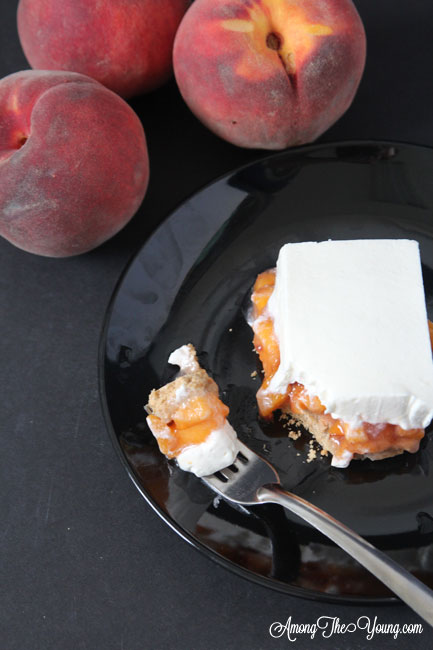 The best Peach dessert
The thing that makes this fruit/jello dessert different from some of the others I've had is the graham cracker crust. It's THICK and is the perfect texture to go against the fresh peaches and creamy whipped cream. Plus… are you ready for the secret? The crust has powdered sugar instead of regular sugar. Oh YUM! My mouth is literally watering as I'm writing this and I'm wishing I had a piece to eat right now!
Again, I'm usually not a fan of jello desserts and neither is my husband – but this peach dessert is just sheer perfection.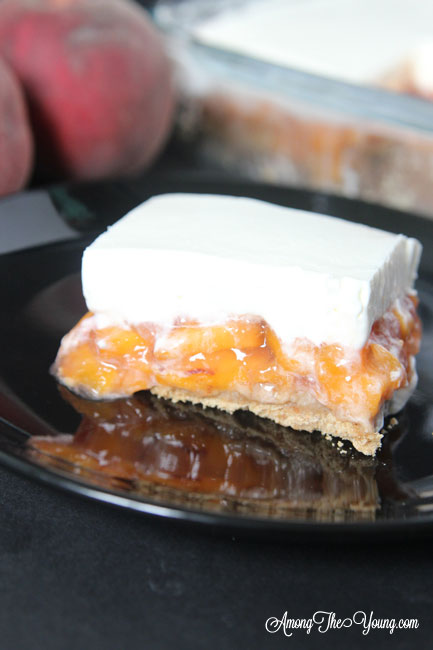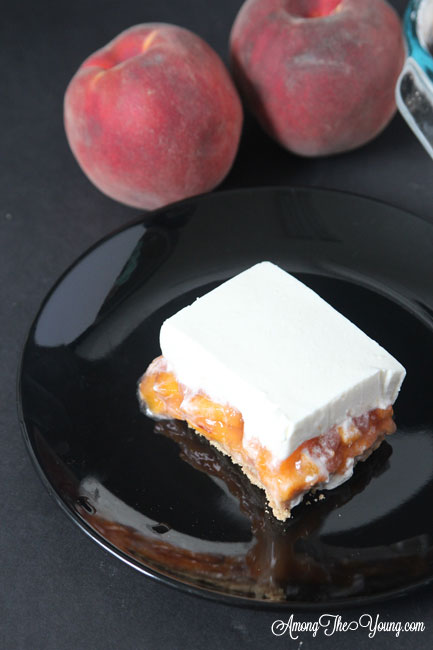 Forget the name.
No, Peach Delight is not my most creative name, but just trust me on this one – it's yum.
You'll love it.
In this latest round of pictures I did forget to sprinkle the top with graham crackers and I can't decide what I like better. What do you think? Do you prefer the crushed grahams on top? Or do you like the smooth whipped cream look?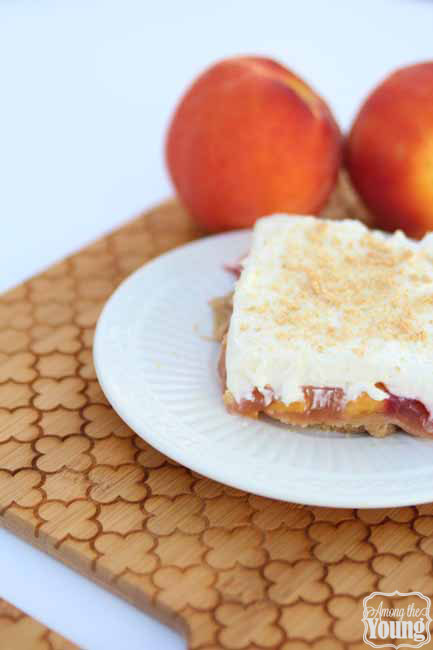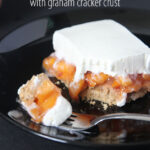 Print Recipe
Peach Delight
Ingredients
Crust:
2 1/2

c.

crushed graham crackers

1/2

c.

butter

melted

6

TB

powdered sugar
Filling:
2

TB

cornstarch

2

c.

water

1

c.

sugar

3oz

package

Peach Jell-O

4

c.

sliced peacheds

about 5 peaches
Frosting:
8

oz

cream cheese

3

TB

milk

1

c.

powdered sugar

2

c.

whipped cream
Instructions
Crust:
Mix all ingredients and press into 9x13 pan.
Filling:
In a saucepan cook water, cornstarch, and sugar until thick.

Remove from heat and add the Jell-O packet.

Stir well and allow to cool, then add sliced peaches.

Spread over crust and put in fridge for two hours, or until set.
Frosting:
Using an electric mixer, combine cream cheese, milk, and powdered sugar.

Mix well.

Fold in the whipped cream.

Spread over peach mixture and sprinkle extra topping on top.

Chill for at least an hour, preferrably more or overnight.
Items used to create this recipe:
If you're peach obsessed like I am, I'd highly recommend these other amazing peach desserts from my blog friends:
Fried Peaches and cream by Ashlee (are you drooling yet? Because WHOA!)
Peach Pie Pancakes by Aimee
Peach Pleasure Jamba Juice copycat by Yvonne