Disclosure: I am participating in this campaign as a member of the World Market Ambassador Program. I received compensation in the form of gift cards, but all opinions and this Lemon Raspberry tiramisu recipe are my own.
*This lemon raspberry tiramisu recipe blog post may contain affiliate links to support my cookie eating habits*
This lemon raspberry tiramisu puts a spin on a classic Italian dessert – and opens up a whole new world of possibilities for the chocolate and coffee haters! Ladies and gents, I give you the best lemon raspberry tiramisu in the entire world.
I have always LOVED tiramisu. The coffee, the cocoa, the creaminess. YUM. It has always baffled me that others don't appreciate coffee/chocolate. For all of you out there, this raspberry lemon tiramisu is for you. NO coffee. NO chocolate. It's my husband's dream dessert actually.
(If you're a raspberry lover like me, then you HAVE to check out my Raspberry tarts and my Kneaders Raspberry Cream Cheese Pie!)
Lemon Raspberry Tiramisu

I'm always astounded by the amount of international food (more specifically, Italian food) World Market carries. I can always go in and find a new International treasure.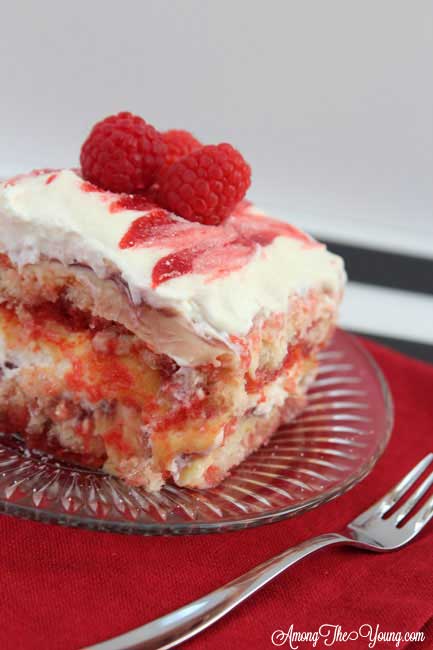 For this lemon raspberry tiramisu recipe, we really just switched up a few components. Instead of coffee, I dipped the
Ladyfingers
in raspberry
Torani syrup
. Then we added some
Raspberry curd
and
Lemon curd
in between the traditional custard/mascarpone and whipped cream layers….voila! Lemon Raspberry tiramisu.
Lemon Raspberry Goodness
I must digress for a second – have I missed the boat? How did I never know that Lemon Raspberry was a thing? The Lemon Raspberry combination is so delicious and I have not had it very often! MISSING OUT!!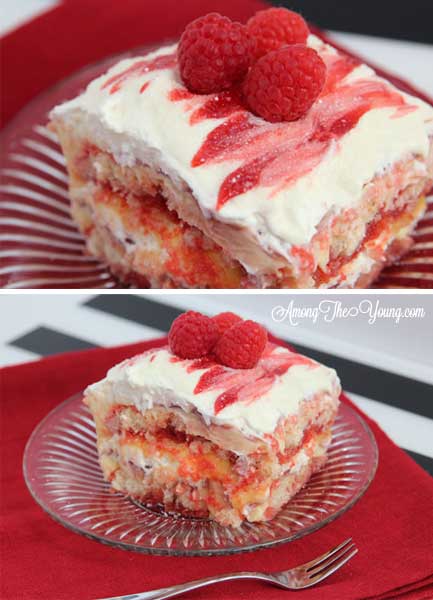 My mom asked, "Isn't this lemon raspberry tiramisu more like a trifle?" And instantly I thought of the FRIENDS episode when Rachel makes the "traditional" English trifle (the episode is technically called "The One Where Ross Got High"). She's explaining the layers: "…there's a layer of ladyfingers, then a layer of jam, then custard – which I made from scratch! Raspberries, more ladyfingers, then beef sautéed with peas and onions, more custard, then I'll put some whipped cream on top!"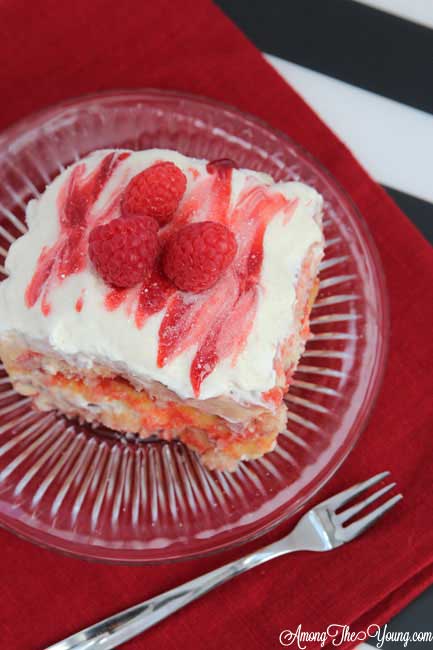 I've included a few more FRIENDS quotes – because I'm awesome like that and it makes me laugh. Enjoy!
Ross: Meat on a dessert? That is not possible.
Joey: I know, and only one layer of jam? What is up with that?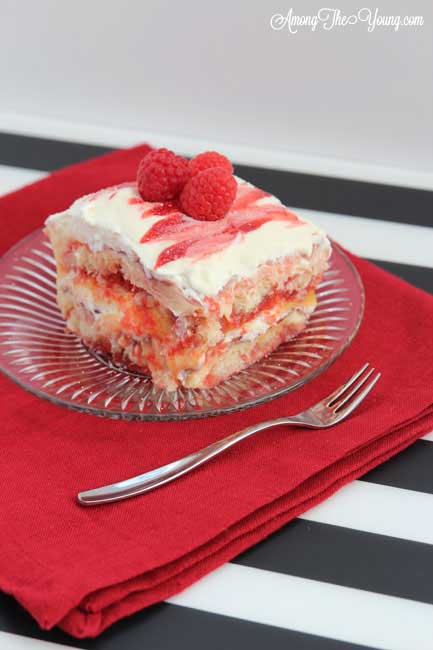 Ross: It tastes like feet!
Joey: Well, I like it.
Ross: Are you kidding?
Joey: I mean, what's not to like? Custard, good. Jam, good. Meat, good!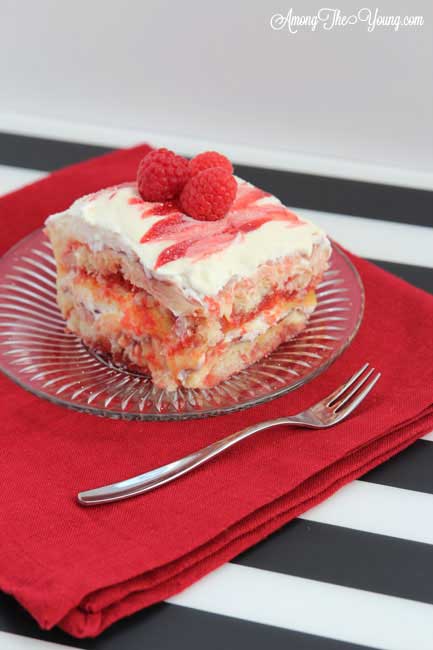 Sadly, there's no meat or peas on this dessert – but it is packed full of lemon and raspberry awesome-ness. It's an awesome end to a meal or breakfast. Either way!
Lemon Raspberry Tiramisu Recipe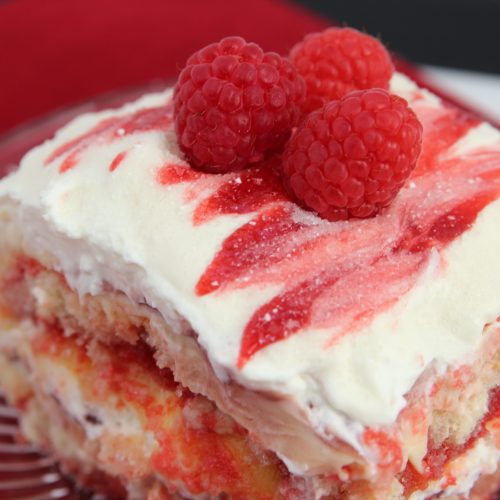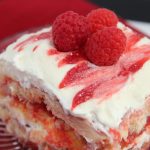 Print Recipe
Raspberry Lemon Tiramisu
Ingredients
6

egg yolks

3/4

C.

sugar

2/3

c

milk

1 1/4

c.

heavy cream

1/2

tsp

vanilla extract

1

lb

mascarpone cheese

1-2

C.

Raspberry Torani Syrup

10.5

oz

raspberry curd

10.5

oz

lemon curd

2

3 oz packages ladyfinger cookies

Xylitol natural sweetener

optional
Instructions
In a medium saucepan, whisk together the egg yolks and sugar until well blended.

Whisk in milk and cook over medium.

Stir constantly until boiling.

Boil gently for 1 minute.

Remove from heat.

Transfer to a glass bowl.

Cool slightly.

Cover tightly (wrap going down on the custard mixture) and chill for 1 hour.

In a different bowl, beat cream and vanilla until stiff peaks form.

Pull custard out of fridge and whisk mascarpone into yolk mixture until smooth.

Put Raspberry Torani syrup in a small bowl.

Dip each ladyfinger into the raspberry syrup until soaked.

Arrange half of the lady fingers on the bottom of a 9×13 pan.

Spread half of the raspberry curd.

Spread half of the mascarpone mixture.

Spread half of the lemon curd.

Spread half of the whipped cream.

Repeat layers.

Cover and refrigerate overnight.

Before serving, sprinkle with Xylitol sweetener and fresh raspberries (if desired).
PLUS, World Market is at it again spreading awesomeness and sending people to Italy with their Gourmet Getaway Sweepstakes. Seriously? It's so easy to enter to win:
*Contestants enter online
Contestants enter online at worldmarketsweepstakes.com
Grand prize: Culinary trip for 2 to Italy!
o Airfare & Accommodations
o Cities: Sorrento, Milan, Capri
o Italian cooking class
o City and market excursions
o Chefs Tasting dinners
o $1,000 World Market gift card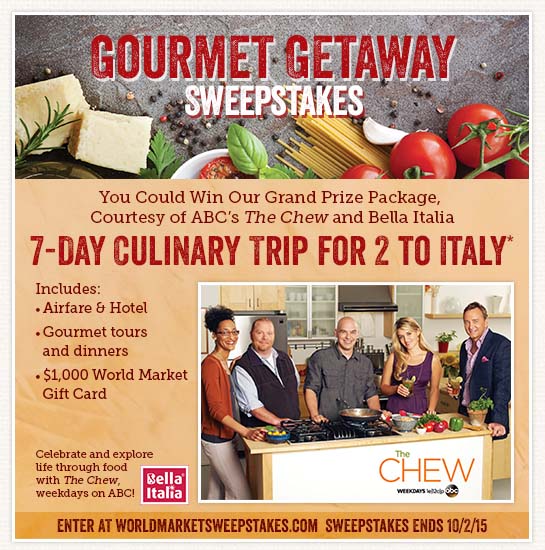 If you don't win the grand prize, no worries! There will be three first Prize winners that will each receive a $500 World Market gift card. What are you waiting for??
ENTER and ENTER
again!!
Also – be sure to check out these other AMAZING desserts featuring World Market awesome-ness!
Pink Cake Plate
A Night Owl Blog
Atta Girl Says
Lipgloss & Crayons