My friends and I found the best chocolate chip cookie, and the best sugar cookie, but then we wanted to go savory and find the best store bought salsa! The results were surprising. Any guesses which store bought salsa was the best?
The best store bought salsa
This taste test, we went SAVORY! We wanted to find the best store bought salsa. This isn't limited to Utah bakeries like our past competitions have been. We found the BEST store bought salsa and honestly …. I was a little shocked at the results! What's your prediction for the best store bought salsa?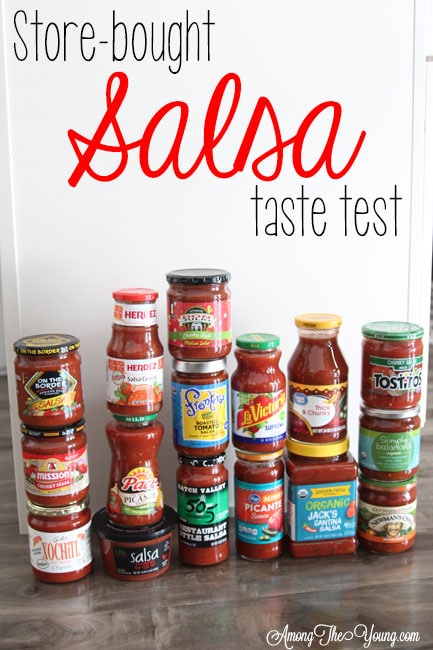 We tasted a LOT of salsas to find the best store bought salsa – it was so worth it!
Here's the list of salsas we tried:
Simply Balanced
La Victoria
Frontera
Pace
On the Border
Costco
Don Julio
Tostitos
Xochil
Great Value
Kroger
Fresh Cravings
Newman's Own
505
Mission
Herdez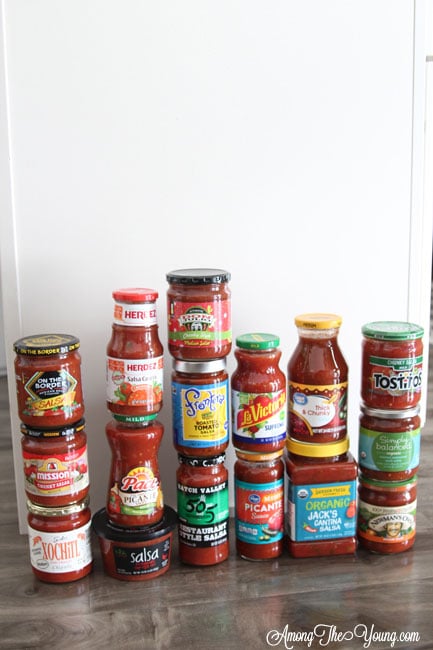 It's a pretty hefty list, right?
Unlike the cookie taste tests we did, as soon as we poured the salsas IN their containers, there wasn't a great way to tell them apart for photos. They are all red ….? Some were more chunky, other were watery.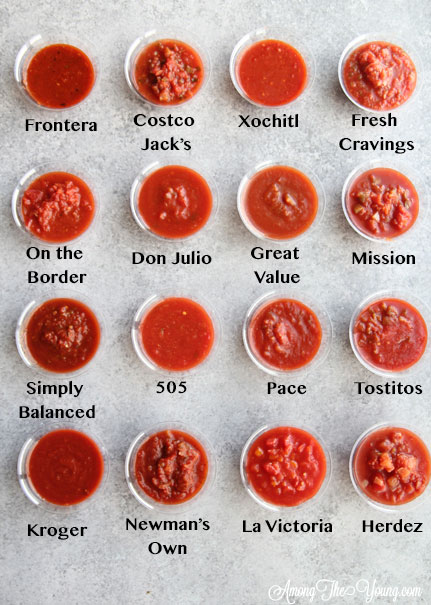 The worst store bought salsa
#16:
Frontera ($3.99; 5 points)
This salsa had a roasted, almost bitter taste. I was not a fan and neither were my fellow taste-testers.
#15:
Xochil ($5.49; 9 points)
Oddly, this salsa had a tomato basil feel to it – definitely not what I want when I think SALSA. Hard pass, especially because it's on the pricey side of all the salsa options.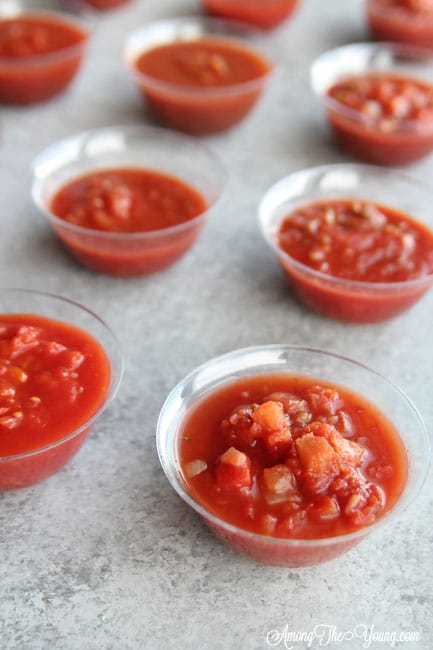 #14:
Don Julio ($2.69; 13 points)
There was a slight heat to this salsa, but it didn't have the best salsa flavor that we wanted. Overall, it was just ok.
#13:
Herdez ($1.98; 14 points)
This salsa was just MEH. Not a whole lot to report. There were larger chunks that I personally like and the flavor was seriously lacking.
#12:
La Victoria ($2.99 on SALE for $2.69; 19 points)
This salsa LOOKED beautiful. It was a nice, bright red but that was about all it had going for it. There wasn't much flavor – several of us needed to tasted it again because we were missing out on FLAVOR!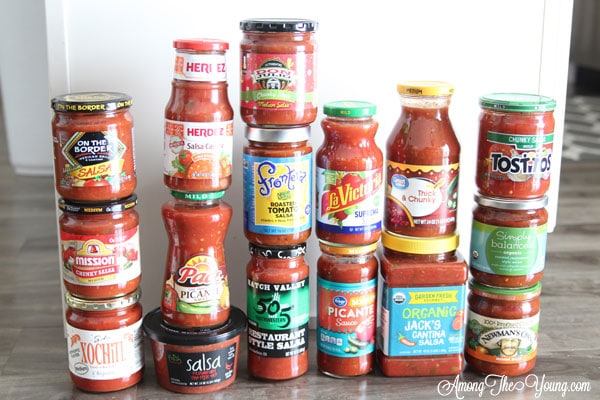 The OK store bought salsa
#10:
TIE between 505 ($3.32; 21 points) and Tostitos ($2.49 on SALE for $1.99; 21 points)
The 505 tasted like straight tomato sauce. Ugh. No thank you!
The Tostitos had a sweet kick – you could definitely get the pepper flavor. It wasn't bad, but definitely not the best either.
#8:
TIE between Pace ($2.29 on SALE for $1.99; 22 points) and Fresh Craving (22 points).
Pace is what I grew up with. My dad always had a jar of Pace in the fridge, so this is what I thought a good salsa should taste like. There was a slight heat and nice flavor; however, did I actually like the flavor or was it more nostalgic for me/some of our taste-testers?
Fresh Craving was one of the more "fresh" options – it looked homemade and we had high hopes. We were wrong. The salsa had no flavor, needed salt BADLY, and I found A HAIR in mine. Automatic ZERO from me. Gross.
#7:
Newman's Own ($2.28; 23 points)
I was sad this salsa didn't do better because it's a Utah based company. The salsa was sweeter than I like it and I was definitely missing the heat.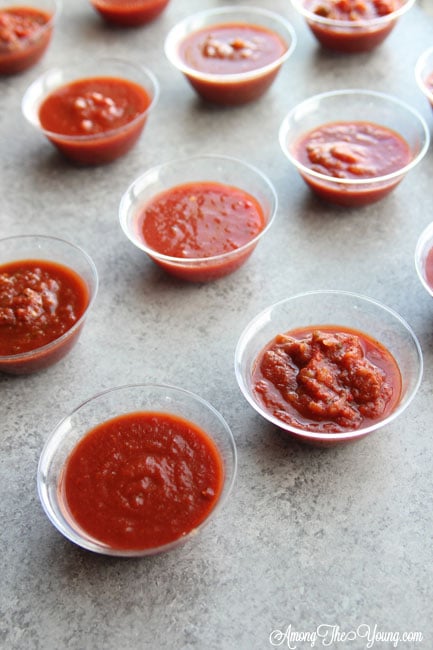 #6:
Kroger ($1.29; 30 points)
I wasn't a fan of this one, but my fellow testers liked it. I felt like it was more like a tomato basil soup – it did have good spice, but it didn't scream "yummy salsa" to me. No soup for you!
#5:
Mission ($3.69; 37 points)
This was one of my favorites – it had a lovely flavor! I kept coming back to this one because it was so delicious!
#4:
Simply Balanced ($2.49; 39 points)
This is the Target brand of salsa and although it was sweet with very little spice, I really enjoyed it. There was a roasted feel to it that I liked.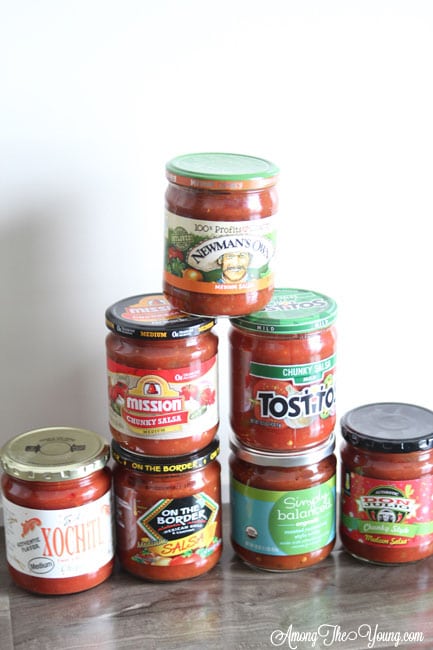 The best store bought salsa top 3
#3:
Great Value ($1.23; 40 points)
This is the Walmart brand of salsa and also one of the cheapest. As we were announcing the scores from worst to best someone said, "I'd just like to mention that the Great Value salsa hasn't come up yet!" We were all SHOCKED this one did so well, but the spice was good and the texture was good. Plus, you can't complain about the price either!
#2:
Organic Jack's ($6.49; 45 points)
I had never bought this salsa because my small family would NEVER go through this HUGE Costco salsa before it expired. However, after tasting it and seeing it rank so high I started reevaluating all of my big life decisions. This salsa was fresh, had lovely texture (nice chunkiness), and a yummy hint of cilantro. Moral of the story: I need to buy this from Costco because YUM!!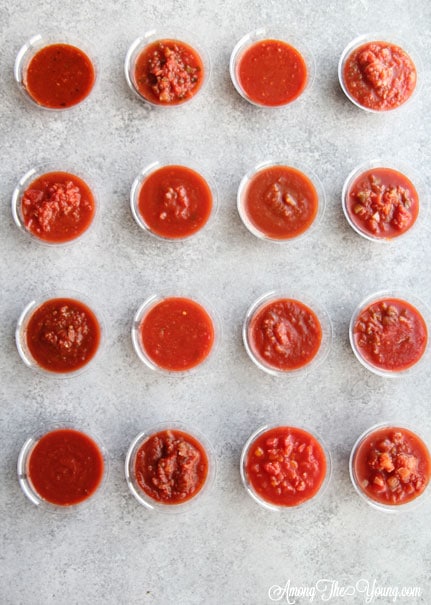 #1:
On the Border ($3.19; 47 points)
This salsa was the winner by a mere TWO POINTS, but it was the overall favorite. It had a great texture, was sweet AND spicy – and the spice was just right. It's in the middle as far as price is concerned, so no guilt there!
If you'd like to watch the live video, you can watch it here! We think we are pretty awesome, but some of our reactions are funny to watch!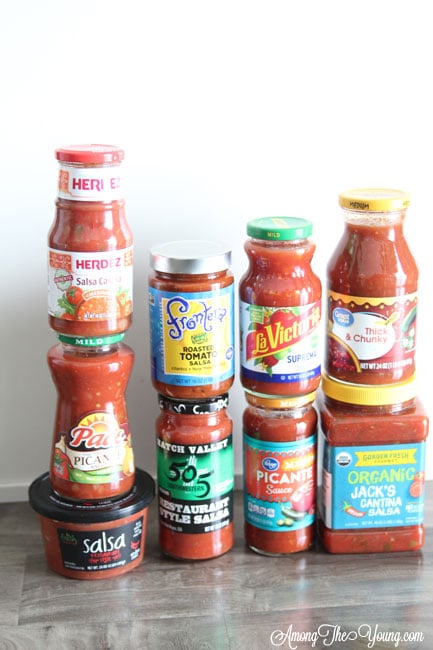 The funny thing for me was that with our past two tests, I had an idea who would win before the taste test. For this taste test? I had no idea which store bought salsa would win. It was anyone's game!
If you liked this taste test, you'll love the others we have done! Don't miss the chocolate chip cookie taste test or our sugar cookie taste test!
Did your favorite salsa make the cut – and do you agree with our results?