Top Utah lifestyle blog, Among the Young, features a classic pie crust recipe that will have you covered for any pie! It is flaky and light – keep reading for the full recipe!
Everyone needs a good, classic pie crust recipe in their arsenal. Look no further my friends. This is it!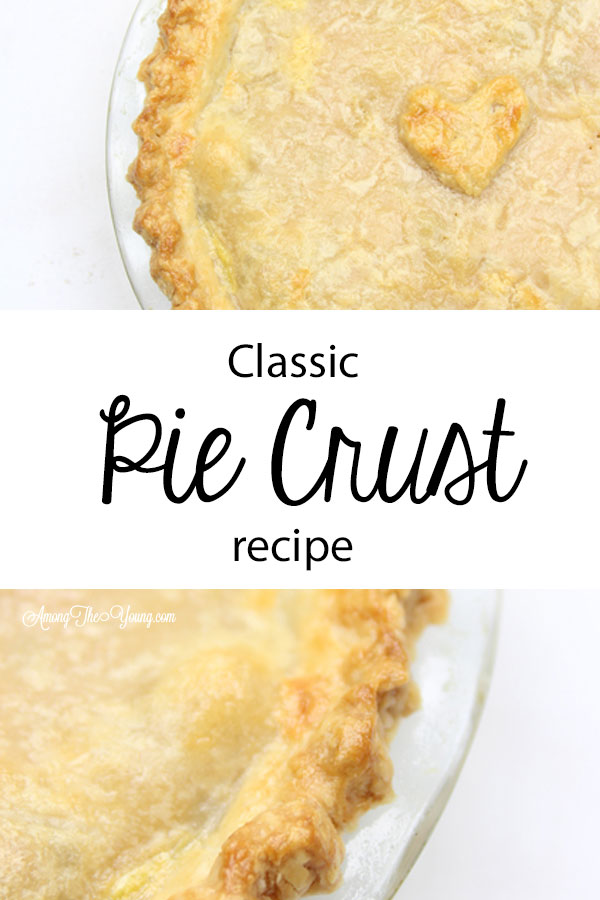 The Best Pie Crust Recipe
Growing up, this was THE pie crust that my mom would always use. She used it for her Apple pie, Razzleberry pie, and cherry pie (both of the latter were store-bought pie fillings).
Little known fact about Kaylynn? Pie is my jam. I love it more than cake, more than ice cream, more than pretty much any treat. I used to ask for an Apple pie on my birthday instead of cake! It's no secret that I love pie – this chocolate mousse and raspberry cream are my other two faves!
This classic pie crust recipe was literally the only pie crust I had ever known until I got married. It wasn't until that point that I realized there even WERE different ways to make a pie crust – isn't that funny?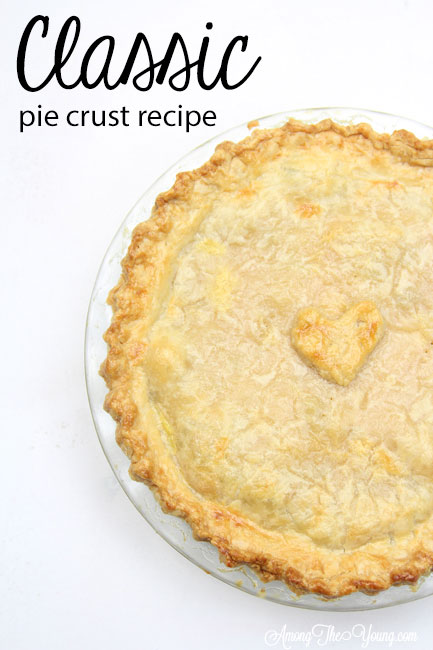 Anyway – this is still my FAVORITE pie crust and it pairs well with any pie I bake. My favorite things to use this crust for are Apple pie and Chicken Pot Pie. I know I keep saying it, but the flakiness of this pie cannot be matched!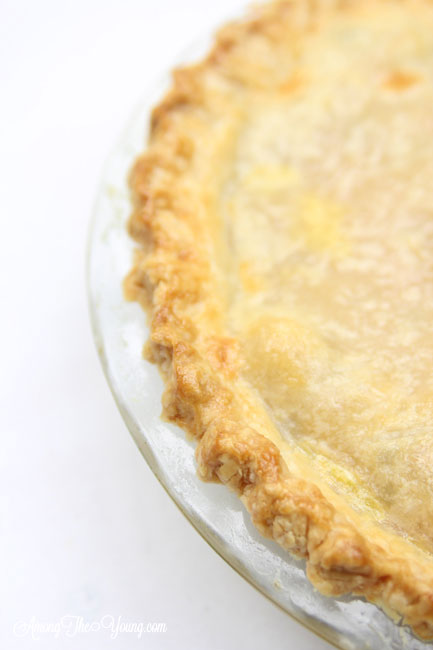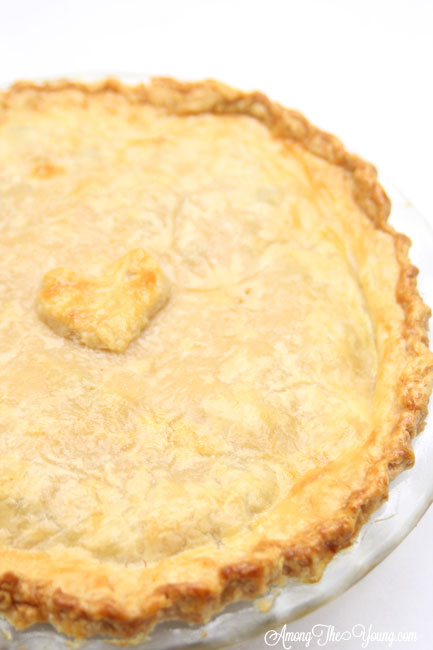 How to make the perfect pie crust?
The key to making the perfect pie crust is NOT TO OVER DO IT. I know, I know … it's a tricky balance. You want all the ingredients to be incorporated, but if you over mix it you'll end up with a tough and rubbery pie crust. No one wants that.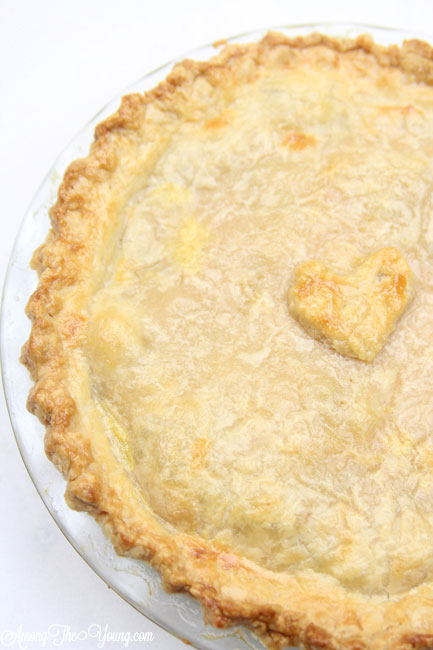 You want to see "marbling" in the pie dough. That's the combination of the flour and Crisco and it makes my heart sing to see it.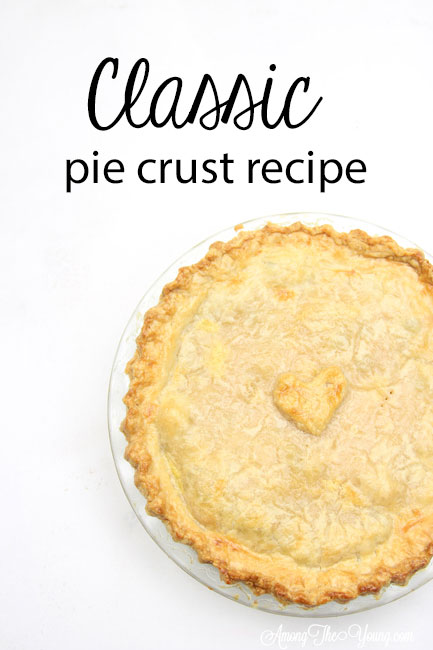 What makes this classic pie crust recipe different from others? There's milk and vinegar. Weird, right? But it totally works and only adds to the flakiness of this amazing pie crust recipe.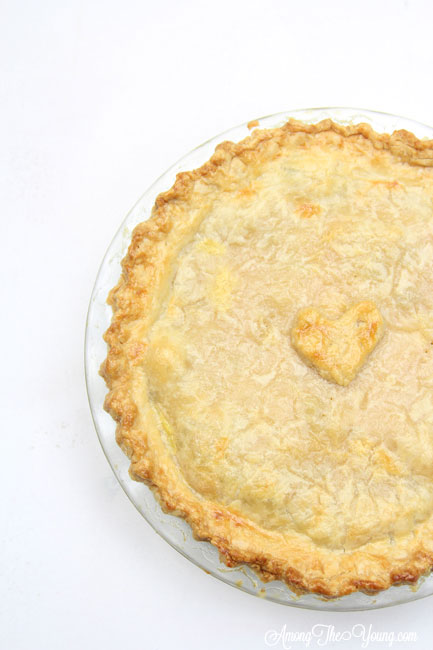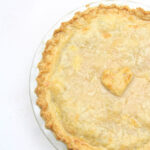 Print Recipe
Classic Pie Crust recipe
This is my go-to pie crust recipe .... it's light and flaky!
Ingredients
2

cups

flour

1

tsp

salt

1

cup

Crisco

1/3

cup

milk

1

TB

vinegar
Instructions
In a large bowl, whisk flour and salt together.

With a pastry cutter, cut in Crisco until combined.

Slowly add in milk and vinegar.

Once some-what combined, dump onto a floured surface and continue to mix by hand.

Your crust is complete when it's fully combined - look for marbling and don't overmix!

Divide dough into two circles.

Roll one pie disk into a 8 or 9 inch pie pan.

Fill with your desired filling.

Roll other pie circle on top of the filling.

Brush the top with an egg or milk - either will work - and sprinkle with sugar.

Bake according to your pie and ENJOY!
Notes
There is no bake time on this pie crust because it needs to be filled before you bake. I'm sure you could use this crust with a cream or no bake filling but I haven't done that. 
I've only used this pie for baked pies like pecan, apple, or chicken pot pie - which generally bake for 30-40 minutes, depending on the pie.  
Supplies used:
Don't forget – I'm a SUCKER for pie! Some of my foodie friends have some incredible pies that I love making. Ashlee's Lemon Sour Cream pie is always a favorite! Aimee has a plethora of pies as well, but my favorite of hers is definitely the Brownie pie! And Amber's pies are always SO yummy – we love her cherry crumb pie! SO good!