Today, we feature the best Easy Strawberry Cream pie recipe – it's so delicious that it'll instantly become a family fav! Scroll down for the recipe!
Strawberry Cream Pie … I have a confession to make.
I just have this weird thing with strawberries.
Honestly – 9/10 times I prefer raspberries (as is evident HERE, HERE, and HERE).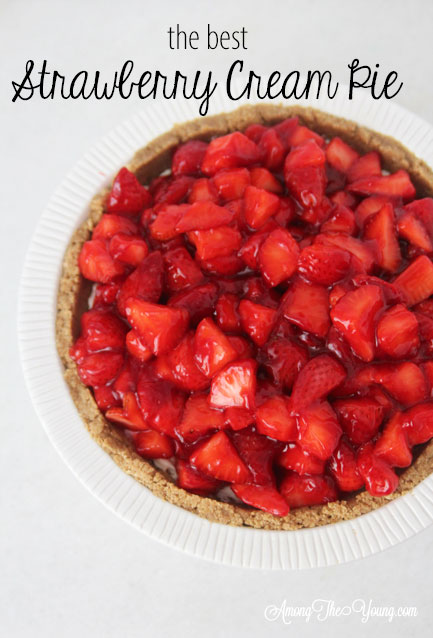 I could eat fresh strawberries all day, everyday. Where I have to draw the line is strawberry flavored things. It never tastes right and it always reminds me of medicine! It's the strangest thing, right?
So the fact that this strawberry cream pie is one of my all-time favorite pies is REALLY saying something! I literally cannot get enough of the bright, fresh flavor of this amazing pie. The fresh strawberries with the cream cheese and graham cracker crust is a slam-dunk in my book.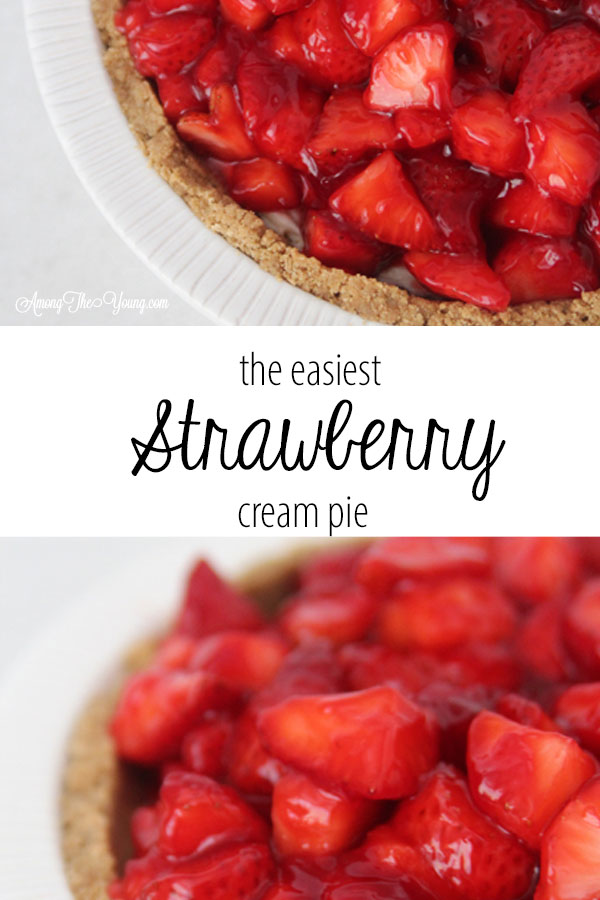 Also, note to self: MUST try this same recipe with raspberries! WHOA YUM!!
What is a Strawberry Cream Pie?
To answer simply, strawberry cream pie has a crust (either traditional pie crust or graham cracker), some sort of cream cheese or cream layer, and is topped with strawberries.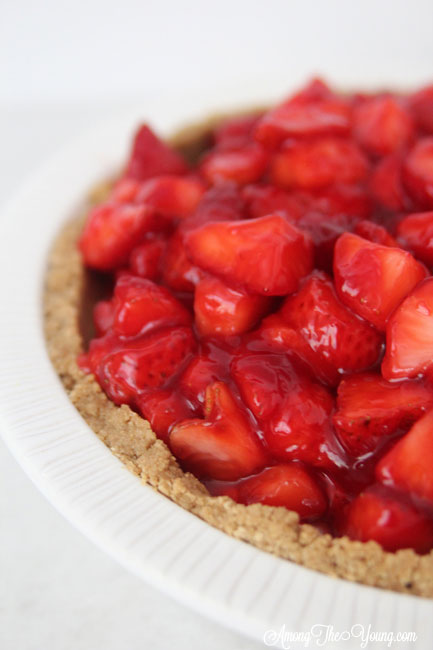 Is a Strawberry Cream Pie Easy to Make?
Don't tell my secrets … but YES! It TOTALLY IS one of the easiest pies in my pie arsenal! It looks impressive and the colors are gorgeous, so no one even thinks that it might be the easiest pie on the face of the earth. The trickiest part is getting beautiful, fresh berries. So if the berries are in stock you're in luck! Easy peasy!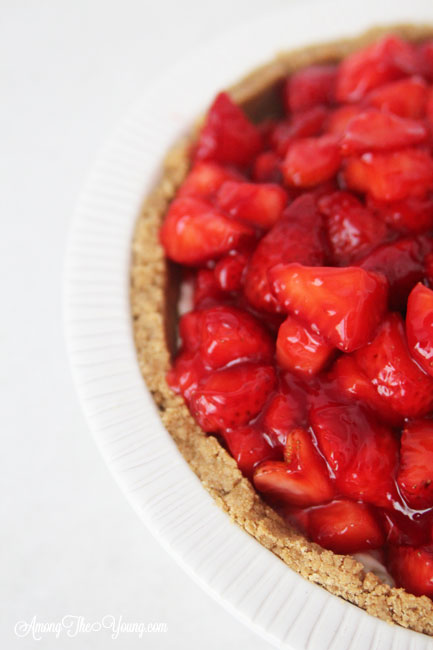 The other thing that makes this strawberry pie such a cinch is the crust. No rolling out pie dough … I'm a sucker for graham cracker crust! (Although, you could easily substitute the graham cracker crust for a more traditional crust. Totally up to you!)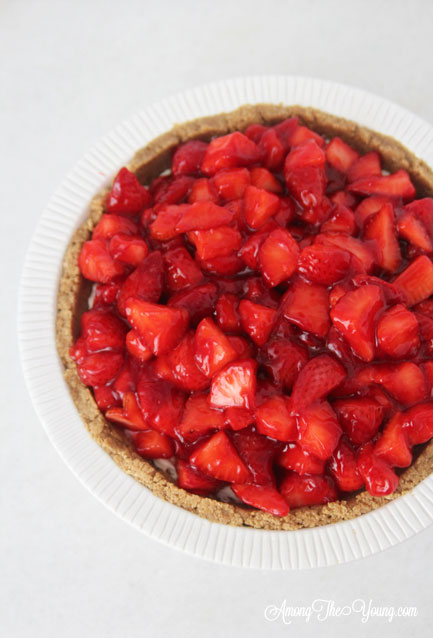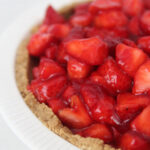 Print Recipe
Strawberry Cream Pie Recipe
The easiest pie in your arsenal - graham cracker crust, a layer of cream cheese, topped with gorgeous berries in glaze.
Ingredients
1

cup

butter

melted

3

TB

powdered sugar

2

packs

graham crackers

1

cup

heavy whipping cream

whipped

1

cup

powdered sugar

4

oz

cream cheese

softened

1

tsp

vanilla bean paste

2

TB

almond milk

1

package

Strawberry Danish Dessert

1 3/4

cup

cold water

cold

4

cups

fresh strawberries

cubed or diced - as big as you want them!
Instructions
Crust
Combine graham crackers, sugar, and melted butter.

Stir until well combined and press into a pie tin.
Cream cheese filling
Whip the whipping cream until stiff peaks form. Set aside.

In another bowl, mix cream cheese, powdered sugar, vanilla bean paste, and almond milk.

Stir until well combined.

Fold in the whipped cream.

Smooth the whipped mixture on top of your graham cracker crust.

Put it in the fridge to set.
Strawberry Glaze
In a saucepan, stir contents of Strawberry Danish Dessert into 1 3/4 c. cold water

Boil 1 minute, stirring constantly.

Fold in fresh strawberries; coat completely.

Pour on top of the pie crust and cream.

Chill 3-4 hours or until firm.

Add additional whipped cream on top if desired.
Items used to create this recipe:
If you need more amazing strawberry deliciousness in your life I'd highly recommend:
Strawberry Poppyseed Salad by Debra
Strawberry Stuffed Cheesecake Egg rolls by Alli