*This post and gorgeous Emei Cardigan are sponsored by We Are Knitters, but all opinions are 100% my own*
This Emei cardigan sweater was so much fun to do! It is an easy cardigan knitting pattern, but it was a challenge for me! I always get compliments when I wear my Emei Cardigan. We are knitters has a TON of knitting patterns for cardigans and I can't wait to do more!
Emei cardigan
Remember that one time I knit a snood for T? And then I got a little more daring and knit a vest for myself? Guys… my skill and confidence are improving … because I decided to knit a SWEATER.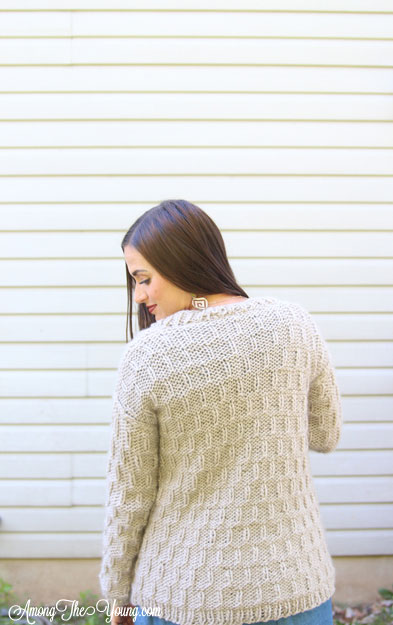 Sweaters are NO JOKE. I mean – that's a lot of surface area to cover! That's a LOT of knitting! Plus, this wool is thinner, which means it's technically more knitting than I've ever done. PLUS! It's a harder stitch – more complex and more detail than I've ever done.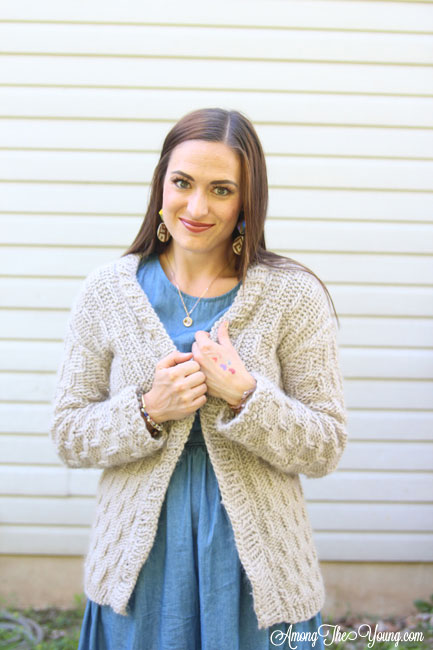 Are you still with me?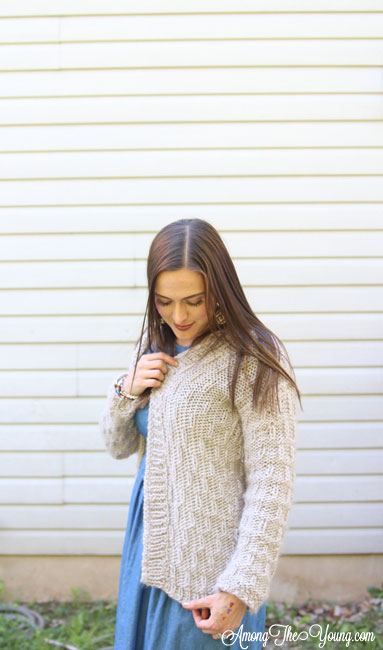 Basically, with my past two projects I could (more or less) zone out to a movie and knit to my hearts content. Not this one. I needed to PAY ATTENTION or there were dire consequences. I even (are you ready for my nerdiness?) made a little paper so I keep could track of what row I was on. Bless my heart!
The pattern came, and I was SO excited to start!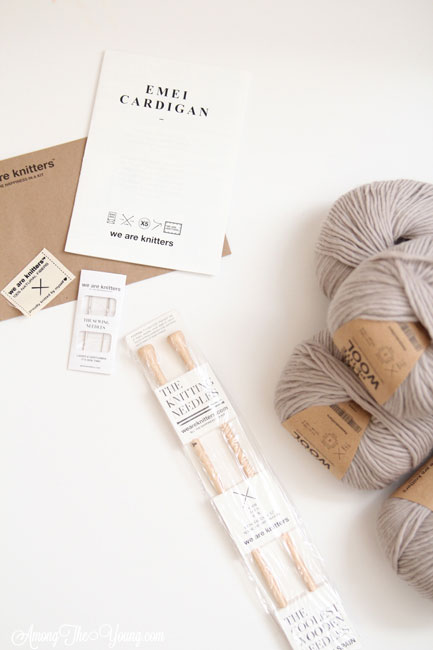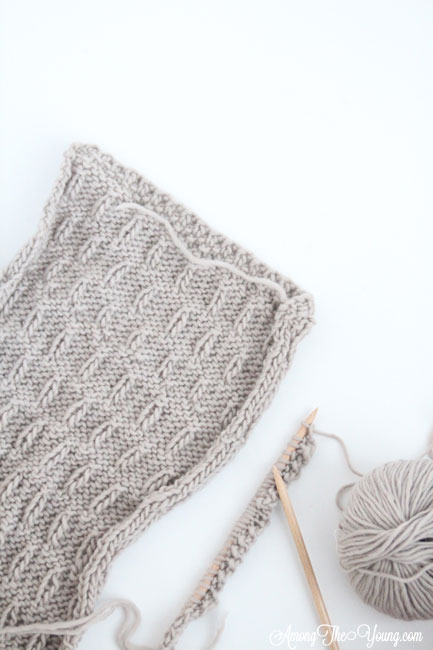 Easy Cardigan Knitting Pattern
I had had my eye on this Emei cardigan (HERE) and I was ready to give it a go. Guys. This was SO MUCH FUN. Who knew I'd be a KNITTER?! Call me Granny Young because I love cats and I Love to knit!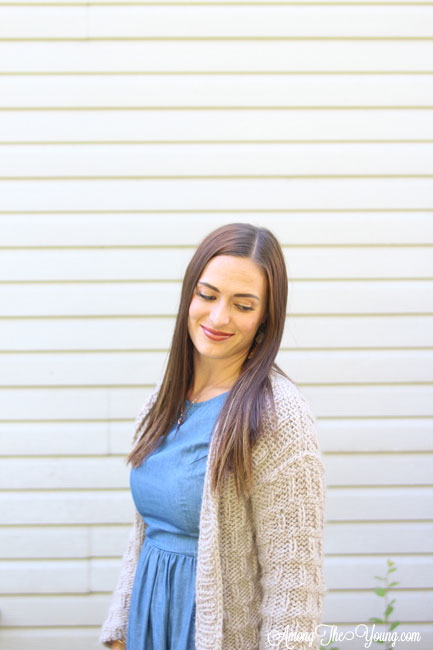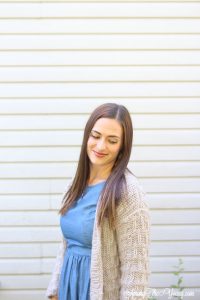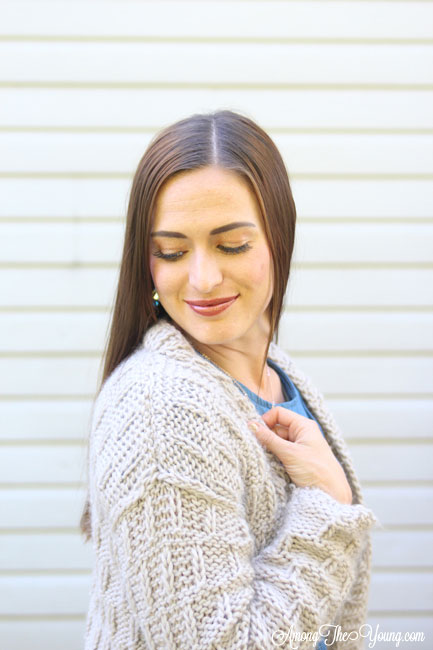 Also, I highly recommend getting some sort of "row counter" because they are lifesavers. They're HERE on Amazon and they're not expensive at all! Also, these point protectors were great for not gouging my eye out and keeping my yarn on the needles if I had to stop. These are lessons straight from the rookie my friends!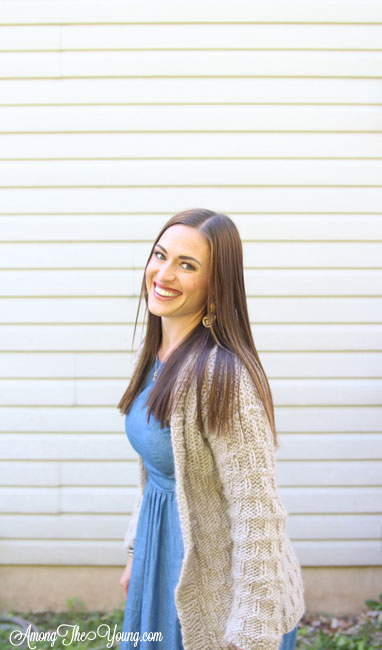 I did, eventually, get the hang of the pattern and could "zone out" a little bit, but not much since I needed to count rows and keep track of what I was doing.
The trickiest part for me was the collar. Picking up stitches is not my strength, but goodness gracious that collar makes the Emei Cardigan look so darn cute and complete!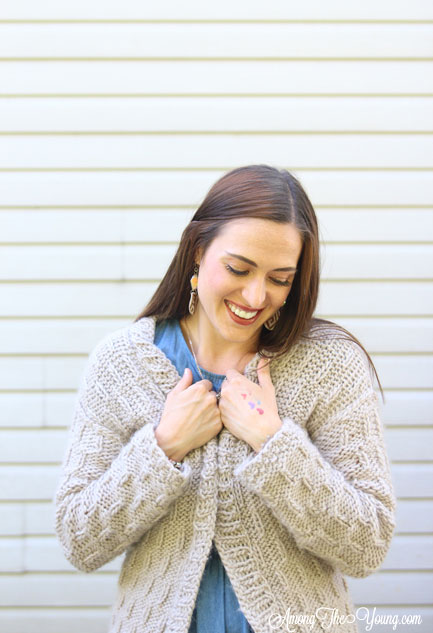 My other favorite part of this outfit was the necklace from One Necklace Jewelry. I'm a sucker for jewelry and birthstones and ANY time I can incorporate all three of my kids, I'm a happy mama.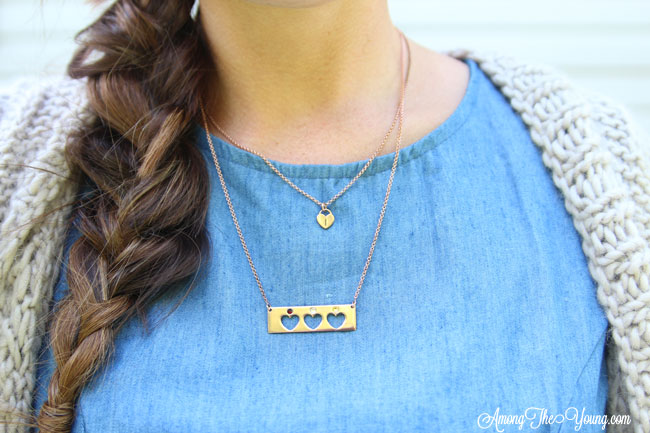 When I saw this necklace I was SOLD. I love that it comes as a set and includes a necklace for me and the cutouts for my girls. I kept the necklace with Ian's initial and love wearing that one by itself or with my bar necklace. SO so stunning. I was so impressed with everything from One Necklace Jewelry!!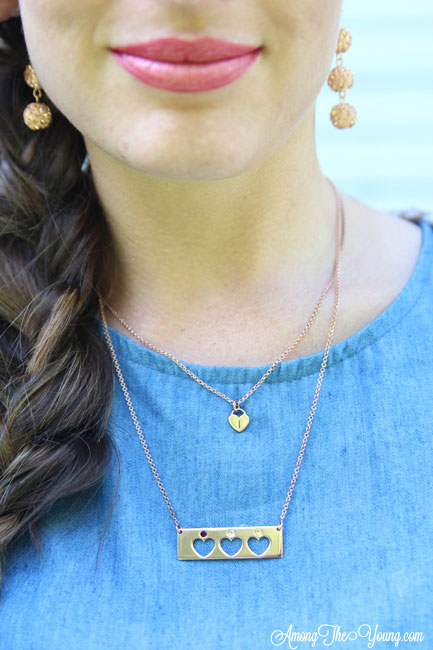 So tell me – are you a knitter? Have you ever WANTED to be? This is the time, because seriously – if I can make this Emei cardigan it, you can too! I am addicted and sewing my THIRD knit sweater. I seriously can't even believe that….I have made three knit cardigans from scratch! It's insanely fun and it's my new hobby. Plus, I'm preparing for when I'm a granny. Boom!