Nothing can prepare you for a loss – one minute you're fine and the next minute all of your dreams have been ripped away. However, as my little family and I have waded through grief, there have been several amazing and important things we have learned about ourselves, about others, and about how to relate better to others who have lost.
Here I will share the 10 things I learned from my stillborn.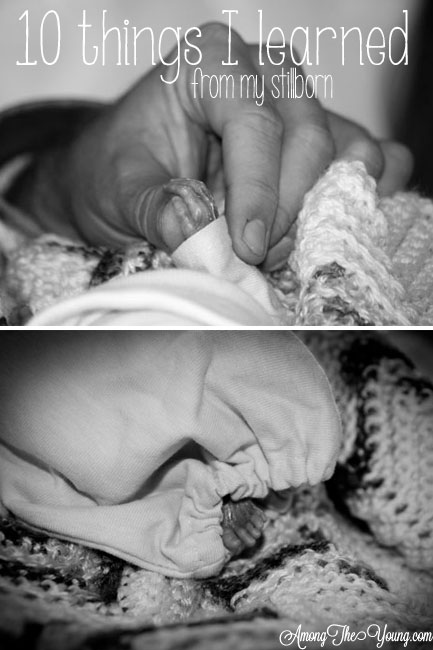 1. God Knows What's Up.
I don't know how many times I had to remind my small human brain that God knows what's best. I've come to know that He knows ME better than me. So take a breath, step back, and just know that He hasn't forgotten you.
2. Life Moves On.
It's sad, and true. One moment you're bombarded with flowers, dinners, cards, and visitors, and the next minute? …nothing. This was REALLY hard for me to grasp, "HOW is the world still turning when my heart is still so BROKEN?" But it did, and still does. I've gotten better at wrapping my mind around this fact, but I still don't like it. There will be the occasional reminder that someone is thinking of me, and I love knowing that there are still those people out there praying, thinking, and wanting the best for me.
3. Eating is Overrated.
As a food blogger, this was a HUGE shock to me. I could go days without eating – call a new diet. The "grief" diet. I'll be rich and skinny.
4. Friends that GET IT are True Gems.
Don't get me wrong, I have plenty of other friends who don't "get it." They are still a joy to be around, but more often than not, it's nice to not have to explain yourself, your hard day, or why you just don't FEEL like eating. I've bonded more with those who have lost and they have become some of my most precious friends.
5. Sometimes Crying Really Does Help.
So I've admitted that I'm not in control (God is), and I know it's all going to work out in the end, but some days I just need to cry. LOTS. No judgement. And that's OK.
6. Serving Others Helps You Forget.
Momentarily. I would find my peace serving and I never wanted to leave. Forgetting is lovely.
7. Everyone Grieves Differently.
I'd heard this, but never truly experienced it. Even comparing my husband and me, our emotions and grieving process have been extremely different. That doesn't mean one way is right, or that it's harder on one of us than the other. Grief happens in its own way and own time. So be patient with yourself and those grieving with you.
8. Good Days are OK.
This one was HARD. Believe it or not I did have several good, peaceful days after I lost. And I felt SO guilty. Was I happy that I'd lost? Had I forgotten? It came down to the fact that I knew God was watching over our family and to soak in the good while I could, because inevitably, the bad days came too.
9. Bad Days are OK Too.
One of our friends told us this, and it STUCK. Whenever you see anyone, they ask, "How are you?" Not wanting to get into the whole story, I would always say, "Good." Because, let's be honest, that's what they want to hear. But guess what? Most days I am NOT good. Most days it's taken all my effort to get out of bed. If you've caught me a)out in public, b) wearing clothes, c) wearing makeup, let's consider it a victory and skip the "How are you" (unless you really want to hear what I'm thinking).
10. This is the Hardest Thing I Would Never Trade.
One of my friends said this and it resonated with me. Yes, it sucks. I wouldn't wish it on anyone, but I wouldn't change it. This experience has taught me more about myself and has brought my family closer together.
Again, these were the things that I learned from my stillborn. I hope none of you have to learn these the same way I did, but if you know someone who has lost (not just a baby, perhaps a husband, grandma, or even a cat), know that they are learning things about themselves and what they are capable of.
Be kind – love them.