This, my friends, is the BEST Pecan Pie.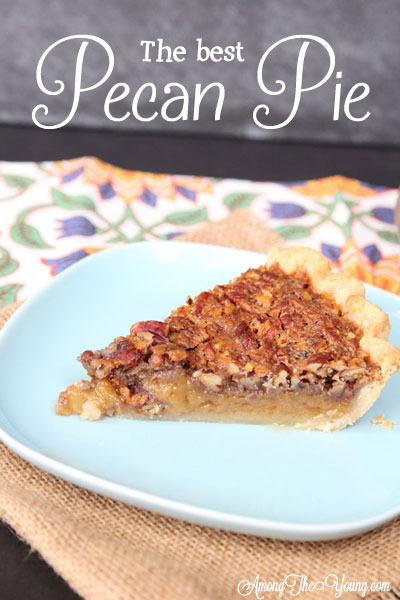 I'm a recent convert to pecan pie. I mean, really…why would I waste my time with some nut pie when I could have
CHOCOLATE pie
?! Chocolate is obviously my favorite, but when the
chocolate pie
ran out (and yes, it did run out very first) I had to be a team player and try some of the other leftover pies.
I went for the pecan pie. For some reason Handsome and I thought there was chocolate in there…. Boy, were we wrong. WRONG. I was so so wrong. (I think this misconception of chocolate in the pie came from an ice cream I once had. Obviously it was named "Pecan Pie" but it had BIG chunks of chocolate in it that I did not enjoy. From there I associated pecan pie = nasty chocolate. No me gusta.) ANYWAY!….I warmed it up, put some ice cream on top, and mentally prepared my mind to hate what I was about to put in my mouth. Except I didn't hate it. I actually couldn't stop eating it. Apparently I LOVE Pecan Pie! This is the best pecan pie recipe.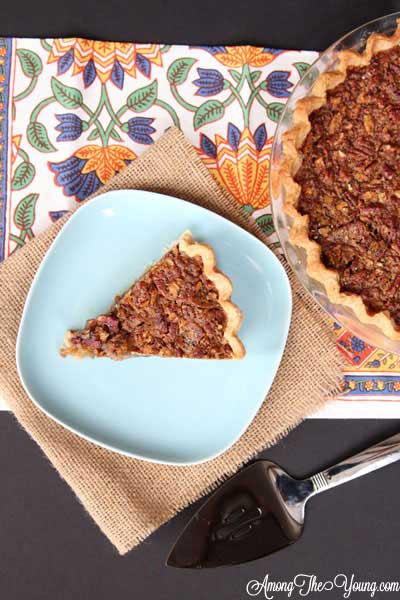 This specific recipe came from a dear friend – she would drop this pie off at Thanksgiving and other random times and my mom LOVED it. I never understood why because I was young, didn't branch out (pie-wise) and she didn't share. (I tease. She would've shared, I just didn't want any.)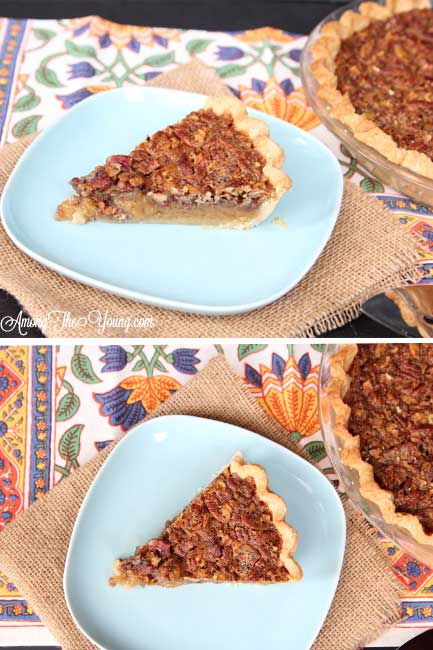 I'm almost always a "warm it up and put ice cream on it" kind of pie eater – no matter what kind of pie. Usually. Not always. When a pie is HOT I eat it really fast. When I eat a pie fast, it's gone really quick. If it's gone really quick a) no one will know I ate it and b) there are no calories. Right? I love eating hot pie (with ice cream) really fast. And I love my solid logic as well.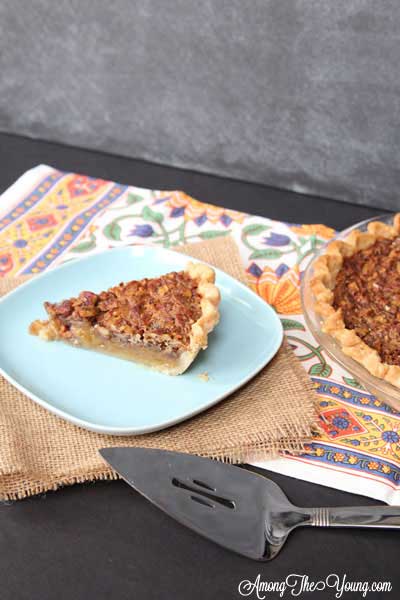 How do you prefer to eat your pecan pie? Hot or cold?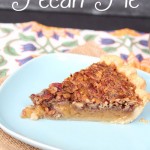 The Best Pecan Pie
Ingredients
Crust:
1

c.

flour

1

tsp

salt

1

c.

Crisco

1/3

c.

milk

1

TB

vinegar
Filling:
1/3

c.

butter

soft

1/2

c.

brown sugar

1

c.

Karo syrup

3

eggs

slightly beaten

1

tsp

vanilla

1

c.

pecans

chopped
Instructions
Crust:
Mix flour and salt.

Cut in Crisco

Add milk and vinegar
Filling:
Cream butter and sugar.

Add Karo, eggs, vanilla, and pecans.

Spoon into pie crust.

Bake at 300 for 30-60 minutes, or until it mildly jiggles.