Remember that one time I signed up to do the Tinkerbell Half Marathon in Disneyland?
I don't think I'll ever forget it. I was at work (students had left – don't worry, I wasn't slacking!) and I should have been collaborating with my fellow Kindergarten teachers, but I was so preoccupied with the thought of doing the Tinkerbell half marathon. I literally couldn't think of anything else. After doing the Tower of Terror 10 Miler, I was hooked on the races and I wanted NEEDED to do more.
But the race was sold out. OBVIOUSLY. Disney races sell out within minutes – it's unreal. It's like we ENJOY torturing ourselves. (Notice I said WE – not they…). The only way I could get into the race was to run for a charity and raise money for it. The stars aligned and I signed up to race for the Special Olympics of Southern California. How PERFECT is that? I'm passionate about this cause and I did manage to raise the required amount – I have some amazing and talented friends. You know who you are. From the bottom of my heart, thank you.
So, after just going to Disney World a few months prior, we planned another adventure to Disney Land. We knew T would love it.
We planned on Disneyland the two days prior, then I'd race Sunday, we'd check out of our hotel and go to SeaWorld. Holy plan, right? No rest for you!
I know this plate of food looks DISGUSTING, but it seriously HIT. THE. SPOT. for my carb over-load the night before. And who wakes up at 3:30AM? Apparently a lot of people….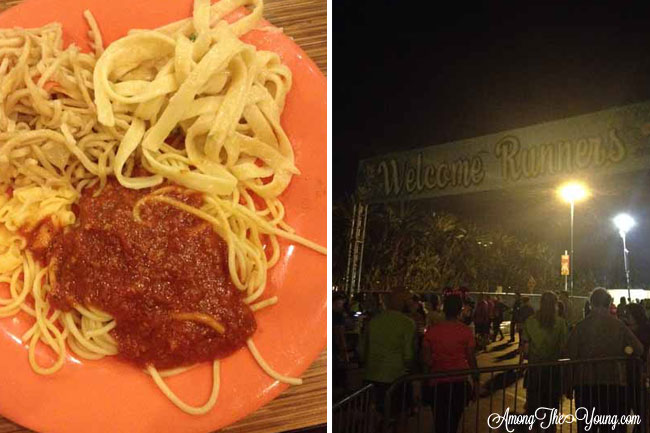 I was getting in the zone and literally had a little mini-freak-out about my water bottle…hallelujah for Bottle Bands this little thingy saved my butt. And what's with all the initials? Oh man…a few of my friends gave me this idea. Each mile was dedicated to a certain someone – in my case, special education students I'd known, taught, or been associated with. Not all were up to the Special Olympics age yet, but they'd more than likely participate later in life.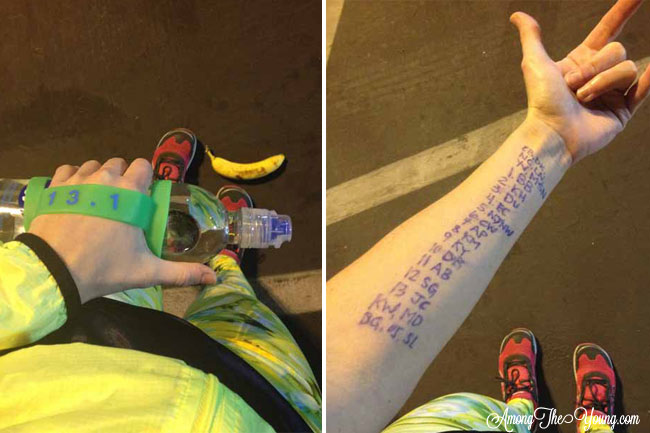 These initials seriously MADE my run. I knew I was capable of running 13 miles – I'd done it in training, but these cute initials made it REAL. Each mile I could think of at least one story, quote, or moment that touched me in some way. Like the time I insisted one student eat broccoli and she spit it at me. Or the time I was asked to Homecoming by a boy with special needs. Or, my personal favorite, the time I caught a little girl eating boogers and she told me they were "GOOD." I was seriously laughing my way through this race – it was awesome. To say that I loved it would be an understatement, because it was incredible.
Seriously though, how many people can say they've run THROUGH Disneyland? Please excuse the poor iPhone pictures – it's hard to stop and take a decent picture! I'm sure the pictures I took were just as blurry! Oh well! And do you see my radical Special Olympics jersey? Worn with pride my friends. Worn with pride.
And how about my Agnes and Dora leggings? I'll leave out all the gory details. Let's just say I had a special RED moment and it was a good thing these leggings are so awesome. We'll leave it at that.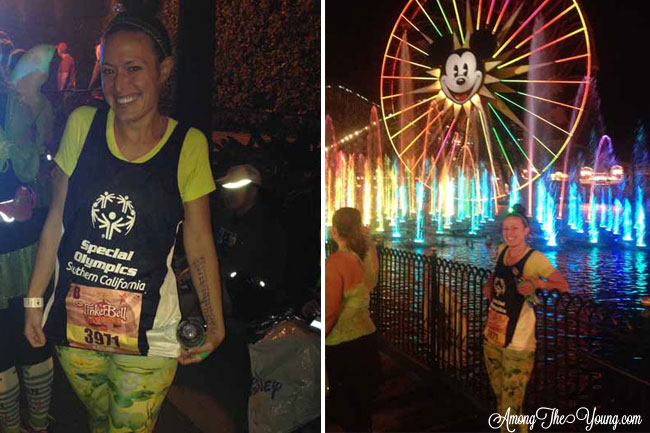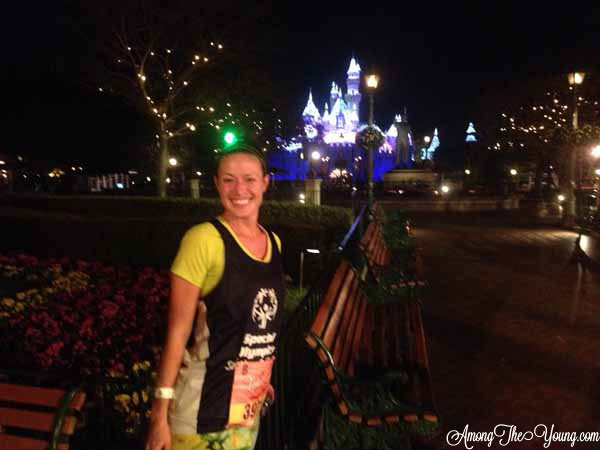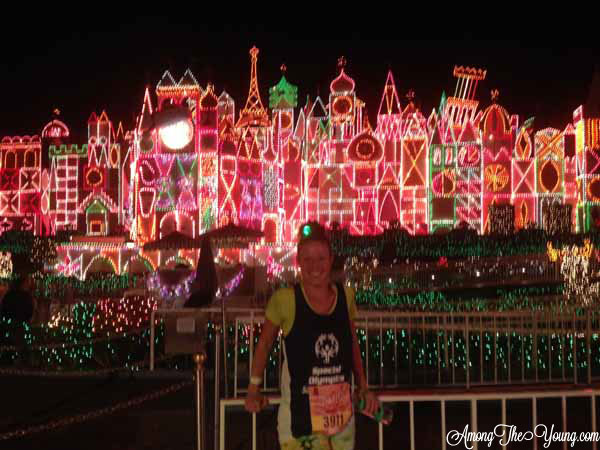 Handsome was waiting for me at the finish line, but somehow he missed the blur of green. HA! I ended up buying this picture of me "leaping" across the finish line – it pretty much sums up my experience in one picture. And that medal? DANG. So cool.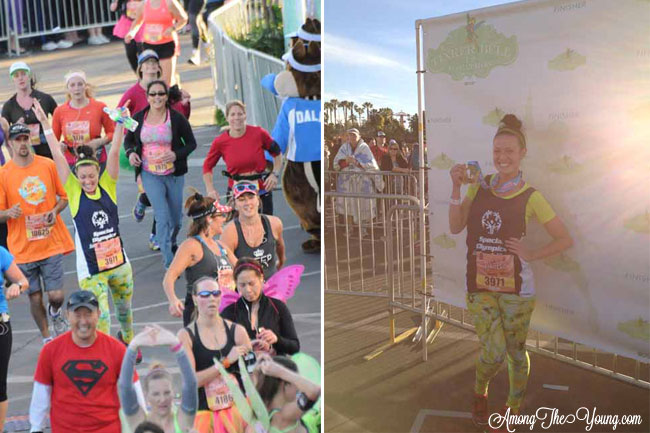 Best cheerleader? T. And a picture with a Special Olympian? PRICELESS.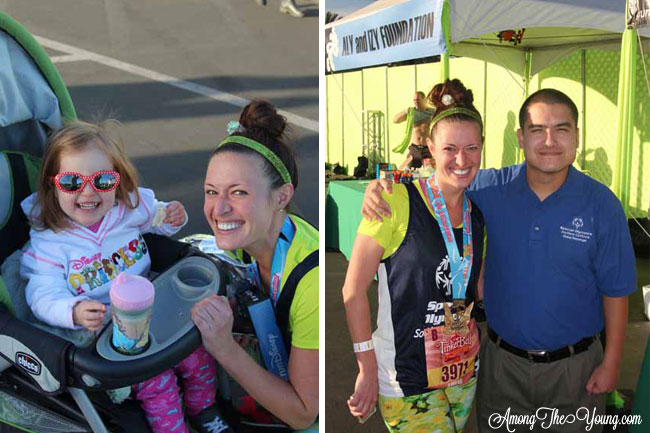 Moral of the story: I DID IT. I completed the Tinkerbell Half Marathon, and I'm no runner guys. If I can do it, so can you. Plus, feast your eyes on the bling!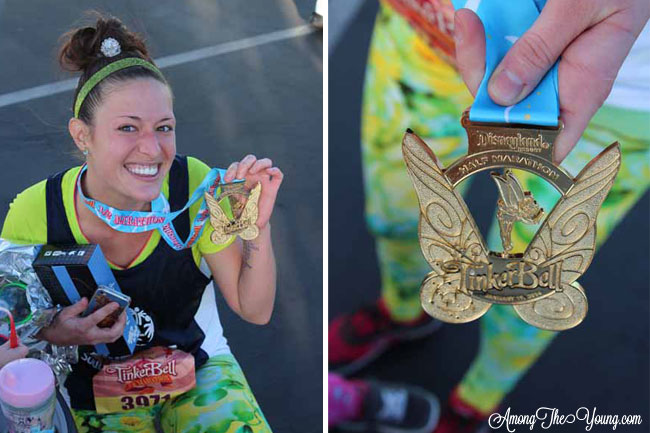 So….when's your next race, Kaylynn? Stay tuned babes. It's gonna be awesome.
Are you looking to go to Disney soon? Check out Get Away Today's deals and use code YOUNG10 – it is good for $10 off any Southern California vacation package of 2 or more nights and tickets!