Top US food blog, Among the Young, features the Best Disneyland clam chowder recipe. Make Disneyland come to you! Click here now for the recipe!
I don't know about you, but I am a complete sucker for clam chowder, and this Disneyland clam chowder recipe is no exception. OH. MY. YUM!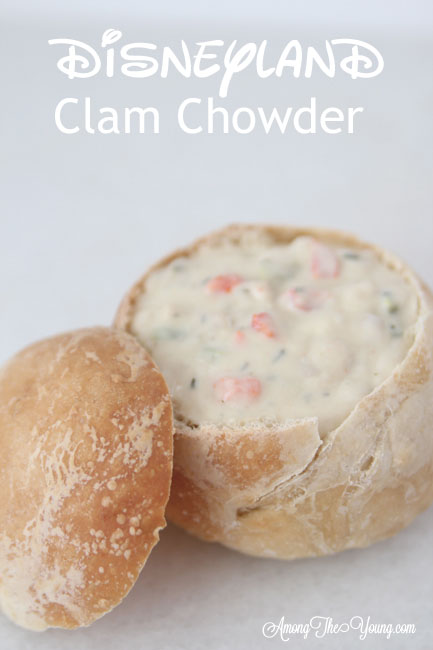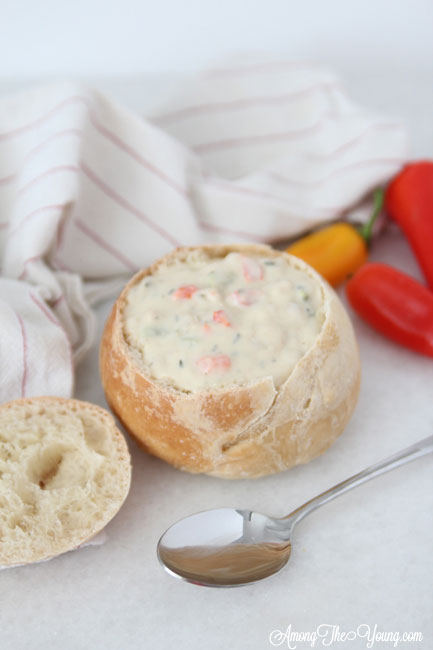 Disneyland Clam Chowder Recipe
So remember how you can ASK Disneyland for pretty much any recipe in their park? Guys – I know I have said it before, but I'm saying it again, and again, and again – YOU CAN ASK FOR RECIPES! No need to buy the expensive recipe books at the park or in Downtown Disney because they're giving out the recipes for free!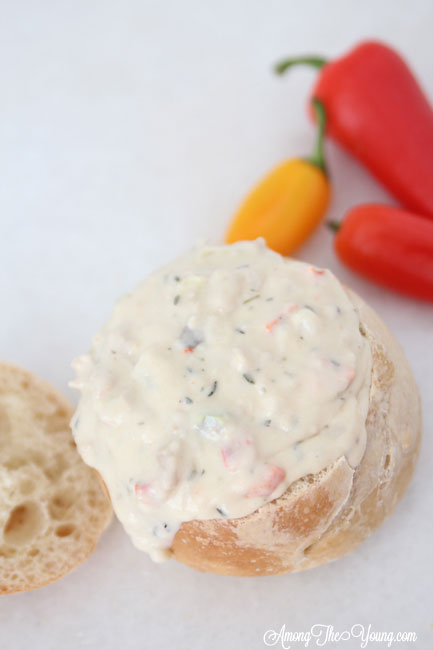 The best clam chowder I've ever had was in San Francisco. (Remember that one time hubby surprised me with a day trip to San Fran for my birthday? It was pretty epic!) The ONLY place that could rival San Fran in the clam chowder department is Disneyland.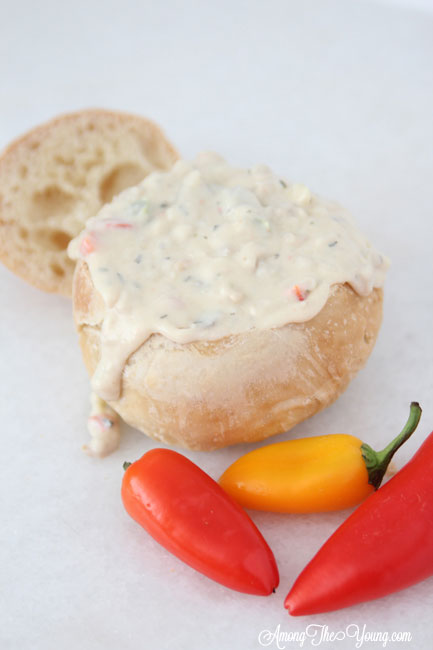 All you gotta do is go to the Main Street office, wait in line, and ask! I was going to joke about having to wait in a line, but if you think about it, it totally makes sense. I mean, I willingly wait in line to go on a Disney attraction… why not wait in line to get a recipe? The food in Disneyland is the main attraction for me anyway. Just sayin.
The only problem is, at least with this Disneyland recipe, is that it was in a HUGE portion. Probably because they make one Mickey-sized batch and it lasts them all day. (only kidding!)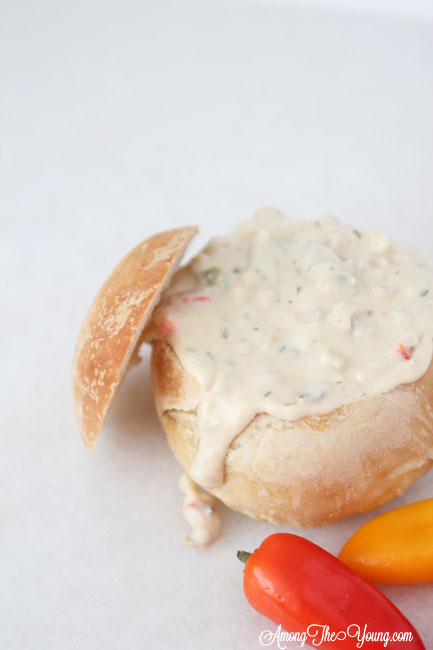 Converting this Disneyland clam chowder recipe from a zillion gallon portion of soup to a small family portion of soup was a slight feat. (I lie – I totally had my husband do it for me!)
The whole time I was making this soup I kept thinking, "There's no way this is THAT good," and, "No way this is the actual recipe they use in Disneyland." Guys…. I think it legit IS the recipe they use in the Disney parks.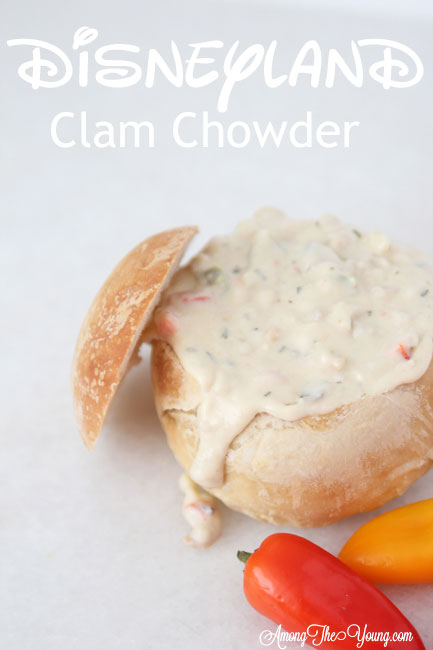 It tastes exactly like what I remember it tasting like in Disneyland. The only thing missing was the Sourdough bread bowl – and that was 100% my bad.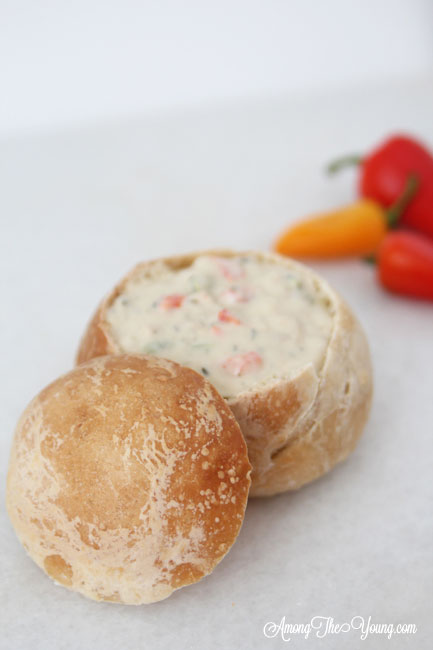 I wish I could have eaten both of these Disneyland clam chowder recipe s right next to each other, but I don't think that's a possibility. What I can tell you is it's delicious, worth buying canned clams (EW, right?) and made an AMAZING leftover (that is, if you HAVE any left over!)
Chowder Recipe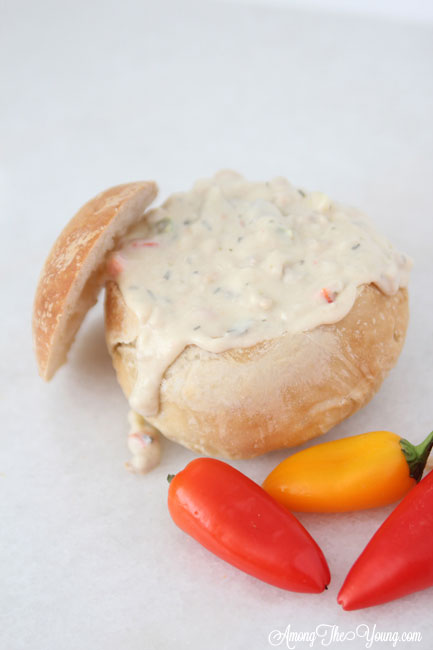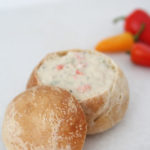 Disneyland Clam Chowder
Ingredients
5

TB

butter

5

TB

flour

2

TB

vegetable oil

1 1/2

C.

potatoes

peeled and diced

1/2

C

onions

diced

1/2

C

red pepper

diced

1/2

C

green pepper

diced

2 1/4

C

clam juice

1 1/2

C

heavy cream

1

C

clams

1/2

TB

thyme

1/4

tsp

salt

1

pinch

black pepper

3/4

tsp

Tabasco

*optional*
Instructions
Melt butter in a saucepan; add flour to create a roux.

Cook over medium until it's light brown in color; set aside.

In another pot, heat oil. Saute potatoes, onions, peppers over medium until tender (about 10 minutes).

Add clam juice to the potato/pepper mixture and bring to a boil.

Reduce heat and simmer for 10 minutes or until potatoes are cooked.

Add heavy cream, clams, spices and the roux.

Whisk well to blend in the roux.

Bring to a boil, then reduce heat and simmer for about 5 minutes, stirring occasionally.

Add more seasoning if desired.

Serve in bread bowls - ENJOY!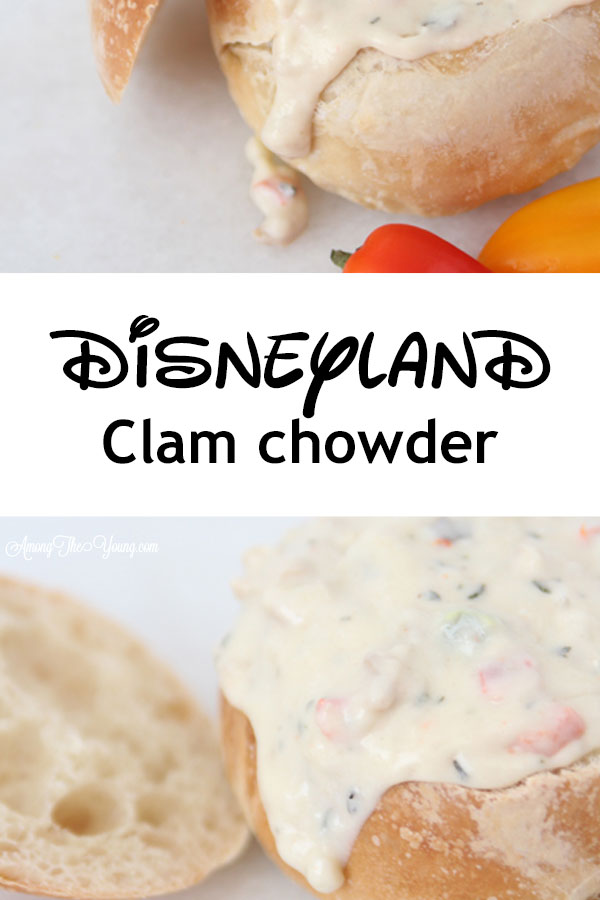 The only thing that irriated me about about this Disneyland Clam Chowder recipe (besides the enormous quantity) was the clams. The recipe calls for 2 1/4 cups of clams, but only 1 c. of clams. I bought TWO cans thinking I'd have enough juice and was WRONG. I was a little short and fudged it. However, I had MORE than 1 cup of clams, but what on EARTH am I going to need canned clams for?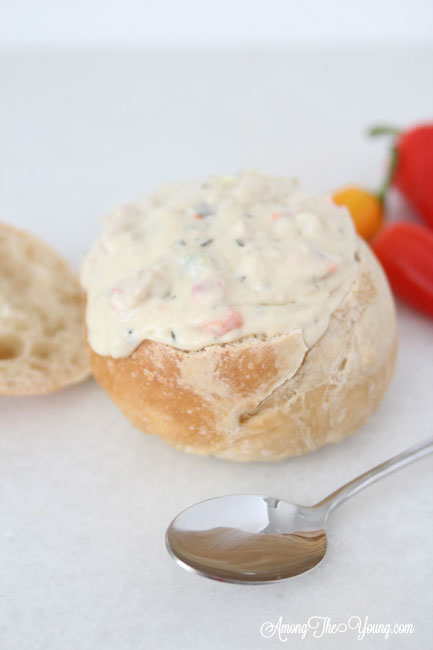 You can see my dilemma, right? In the end, I put the extra clams into the mix and was a little short on liquid. NEXT TIME I make this, I will buy THREE cans of clams (to assure I have enough liquid) and find another recipe to use the extra clams.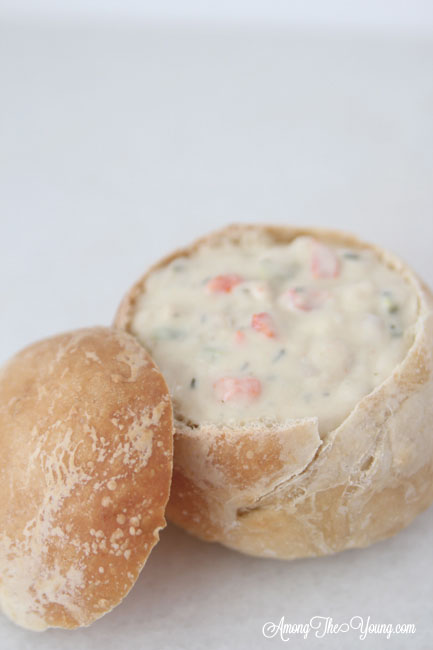 It's been a LONG time since I've written about my love for Disneyland, but did you know I ran TWO half marathons (One is Disneyland and one in Disney World and a 10K? If you've never done a Disney race, I'd HIGHLY recommend it. There is no other way to describe it other than MAGICAL.
Also, if you LOVE Disneyland recipes (WE ALL DO!) then I'd highly recommend checking out THIS post from my friend Ashlee. I mean – the Monte Cristo at Disneyland is my all-time favorite! And the beignets because …. aren't those basically donuts? My friend Alli has some really cute Mickey and Minnie cupcakes. Can you even?
Have you tried making this Disneyland clam chowder recipe before?  Let me know in a comment below!