Top Utah lifestyle blog, Among the Young, features the best egg nog Ricotta pancakes recipe. Perfect for Christmas morning – Read here now for the recipe!!
If you love pancakes and you love egg nog, then have I got a treat for you! This egg nog ricotta pancakes recipe is SO delightful. It is super simple and the taste of Christmas is clear as day in these egg nog delights.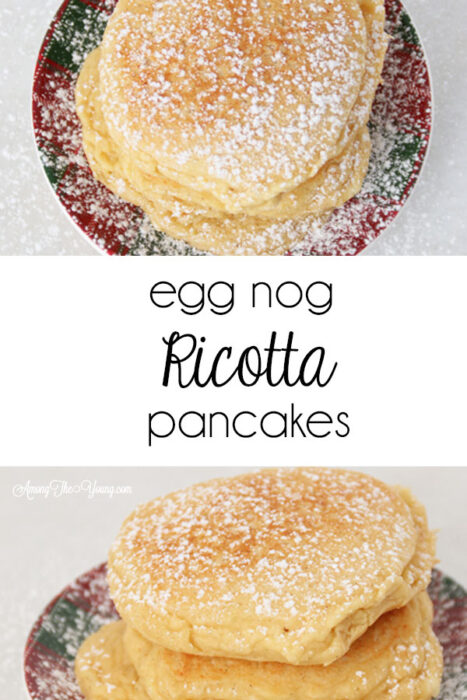 It's no secret I'm an egg nog addict. Some of my favorite egg nog recipes include my Egg nog pound cake, Egg nog cupcakes, and Egg nog bars, egg nog tiramisu, and egg nog pie.
I recently discovered you could FREEZE egg nog and I'm HERE FOR IT. Egg nog any time of the year? Yes please?
Ricotta Pancakes
When it comes to ricotta pancakes, I'm definitely a newbie.
I LOOOOOOOVE ricotto on pizza, in ravioli, and in lasagna, but in pancakes? Hmmmm…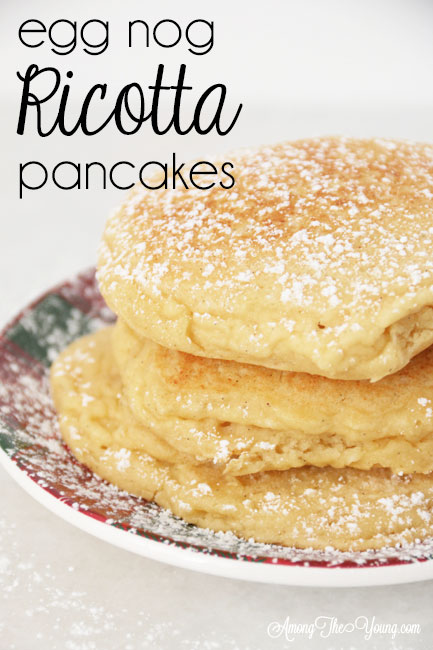 I tried a ricotta pancake recipe at one point and it was PAINFULLY BAD. I don't know if I should blame the recipe? It's definitely possible that I overmixed it. The world may never know.
*PRO TIP* Don't over mix your batter. A few lumps are fine and dandy – no one wants tough pancakes!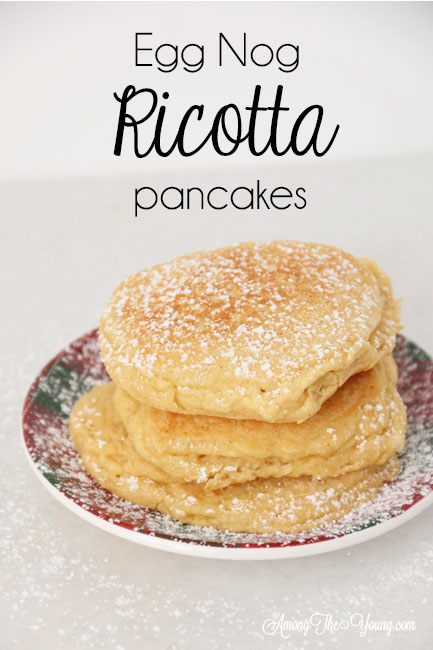 What I DO know is that when a ricotta pancake is made correctly, it is fluffy and delightful.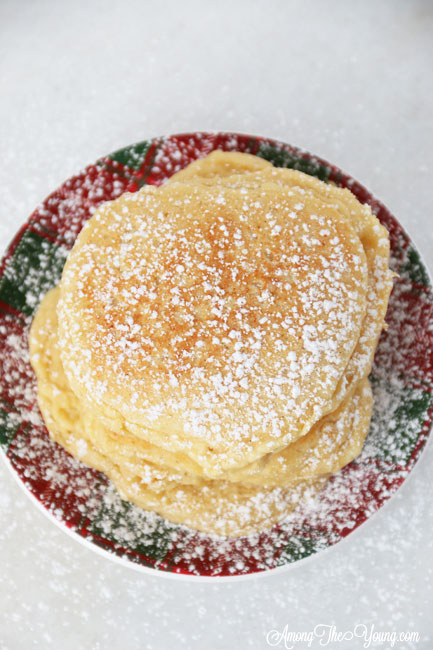 My girls love this ricotta pancakes recipe – in fact, they call them our "fluffy" pancakes.
Egg Nog Ricotta Pancakes
The thought came to add egg nog to this pancake recipe because Christmas was in the air and I love egg nog – so why not?!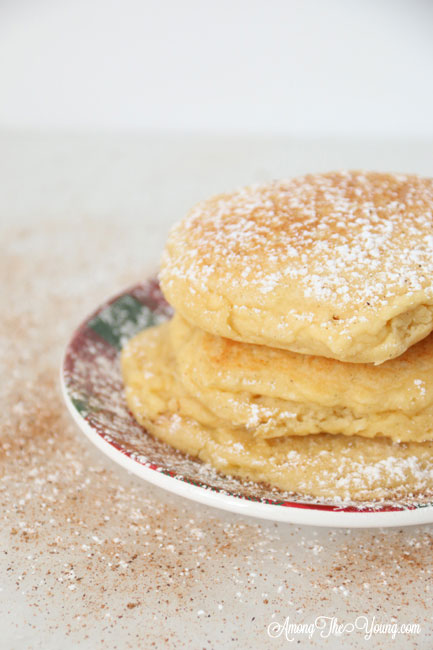 I was skeptical, but figured I'd give it a try.
ALSO – This is VERY important to me: Southern Comfort (non-alcoholic egg nog) is the egg nog of choice. It's not too strong and it's definitely not syrupy.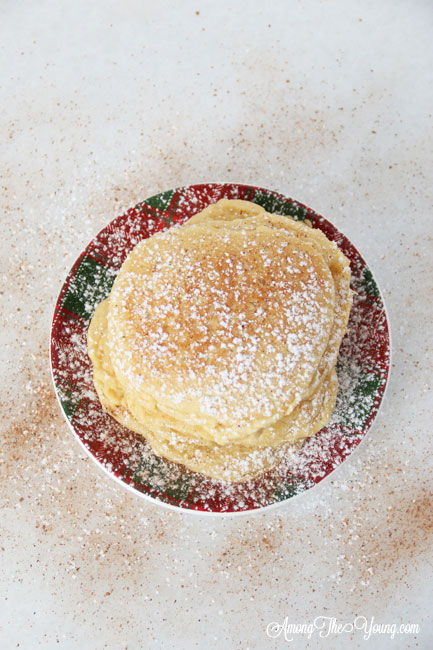 The result? This egg nog ricotta pancake recipe will be our new Christmas breakfast. It was THAT successful.
Even my husband (who rarely eats pancakes and prefers salt over sweets) came back for a second bite before he polished off an entire pancake.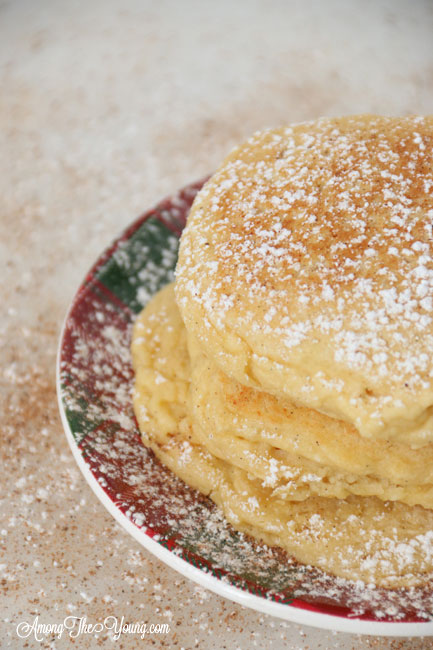 It's subtle but definitely egg nog. It's warm and happy like Christmas morning.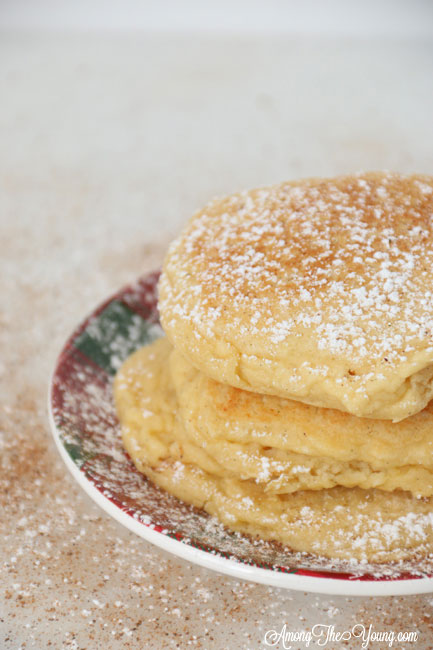 Trust me when I say, this Egg nog Pancake recipe is a keeper in our family – I hope you try it and love it as much as our family does! Do you or someone you know love Egg Nog as much as I do?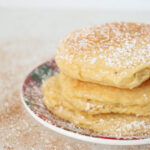 Egg Nog Ricotta pancakes
Ingredients
1 1/2

cup

flour

1

TB

baking powder

1

tsp

salt

2

TB

sugar

1

cup

Egg Nog

Southern Comfort preferred!

1

egg

3

TB

butter

melted

1

TB

vanilla

1

TB

vanilla bean paste

1

cup

ricotta

1

sprinkle

nutmeg
Instructions
Combine flour, powder, sugar, salt, and nutmeg.  

In another bowl, combine egg nog, egg, vanilla, vanilla bean paste, and melted butter. 

Add ricotta; mix. (It's ok to have clumps!)

Fold in the dry ingredients with a wooden spoon. 

Mix until combined but do not overmix! (The batter will be thick and clumpy)

Spray griddle with non-stick cooking spray and set to 350. 

Use 1/2 cup and small spatula to scoop out pancakes. 

Bake until golden brown and then flip. 

Serve warm with powdered sugar or maple syrup. 
Recommended tools:
If you love egg nog but are a crazy obsessed Egg Noggian (I think I just made up an amazing word ….) be sure to snag some of my friends recipes!!
Ashlee makes HOMEMADE Egg Nog – can you even? She's amazing! Amber made egg nog cream puffs and Aimee has amazing Egg nog cookies!
Have you made ricotta pancakes before?  Let me know in a comment below!