Top Utah lifestyle blog, Among the Young, features the best dark chocolate peppermint cookies EVER! Click here now for the recipe!!
I'm such a sucker for peppermint. I mean the evidence is plainly clear with my peppermint cupcakes, peppermint truffle cupcakes, peppermint angel food cake, peppermint pie, and peppermint mallow stars. But I'm just telling you now, that these dark chocolate peppermint cookies may be my favorite peppermint treat of all time.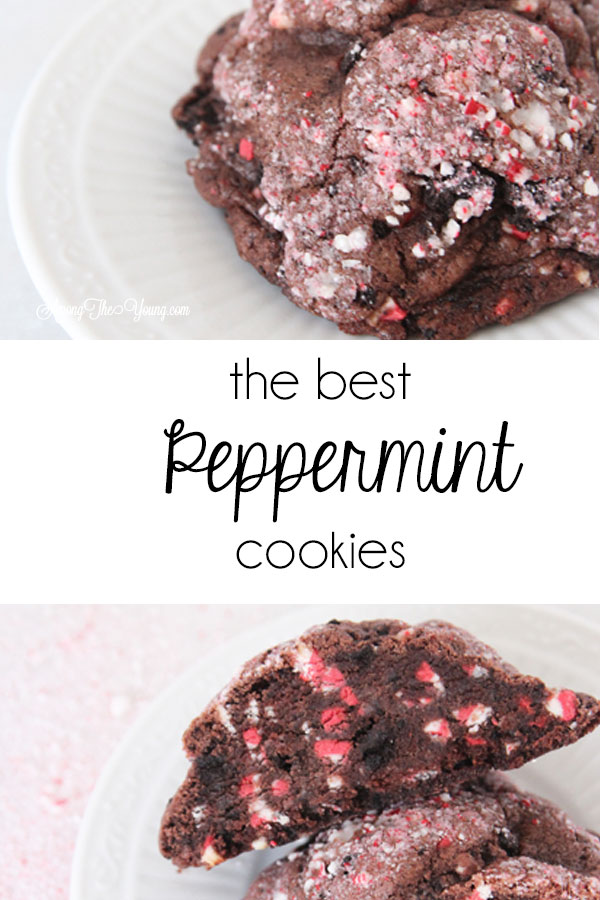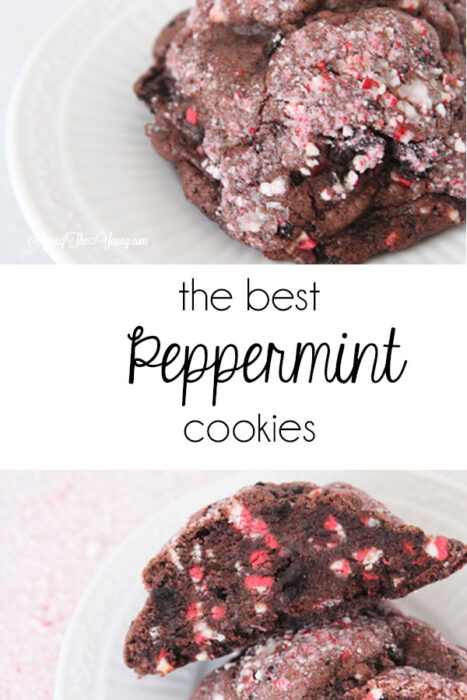 The Search for the Best Chocolate Peppermint Cookies
So it's no secret that I love peppermint and I also love sugar. I made it my personal quest this Christmas season to find and try ALL the peppermint cookies. You heard me. ALL of them.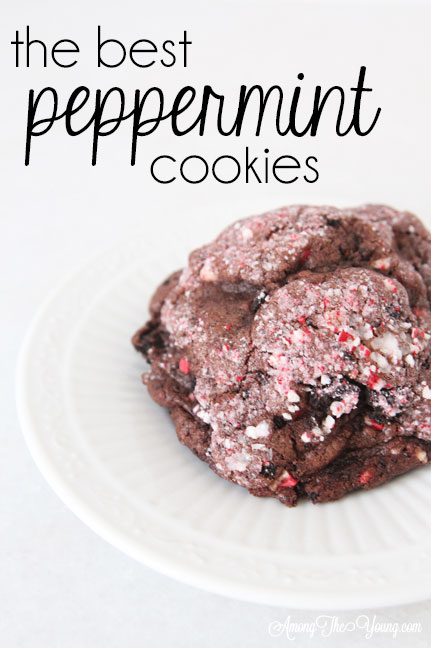 For science. Science demanded I know where I could find the best store-bought peppermint cookies.
I tried cookies from Swig, Sodalicious, Twisted Sugar, Fiiz, Mr. Rad's cookies, Ruby Snap, Goodly, Crumbl …. I think I got them all.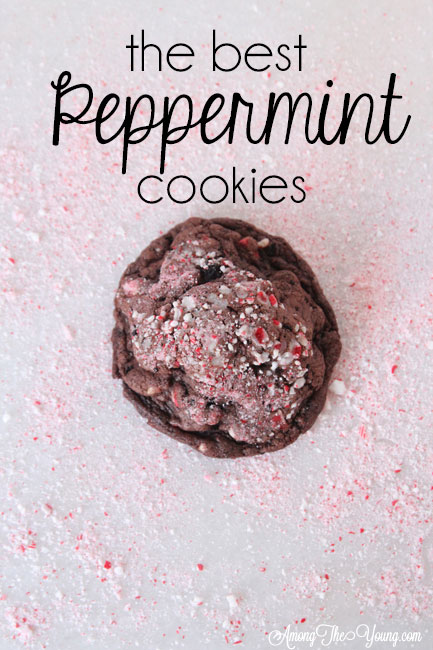 All were good.
All were fine.
The winner was clear (Sodalicious).
Most were edible and delicious.
My complaints for most of them was was the same: NOT ENOUGH PEPPERMINT.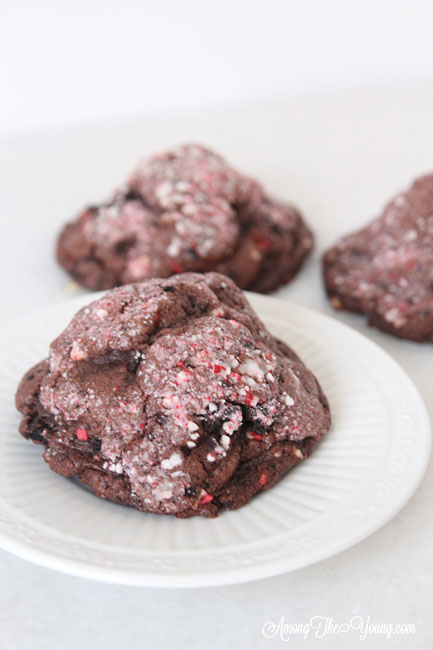 Amazing Dark Chocolate Peppermint cookies
I set out to make my OWN peppermint cookie that was EXPLODING with peppermint goodness. Thus, the dark chocolate peppermint cookies were born and I am SO pleased with how they turned out!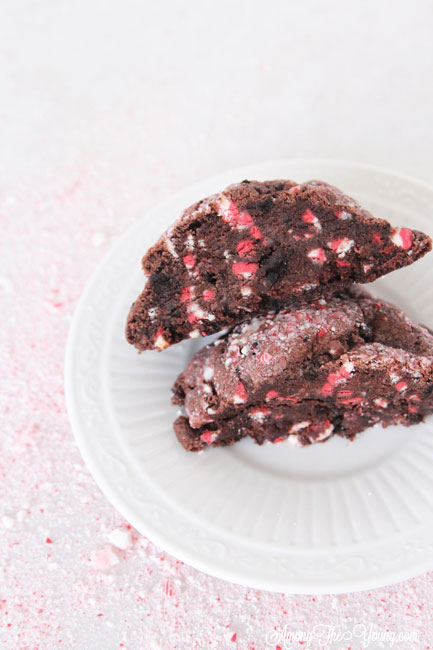 I started with a delicious dark chocolate cocoa powder base and added Trader Joe's Peppermint Jo-Jos, and Andes mint baking chips. To finish it off I rolled the entire 6oz ball of dough in crushed peppermint.
Look how beautiful they are – ready to be baked and packed with peppermint goodness!!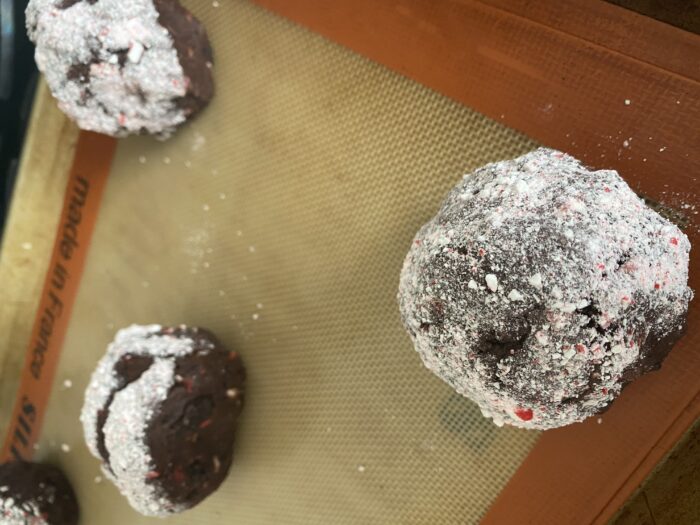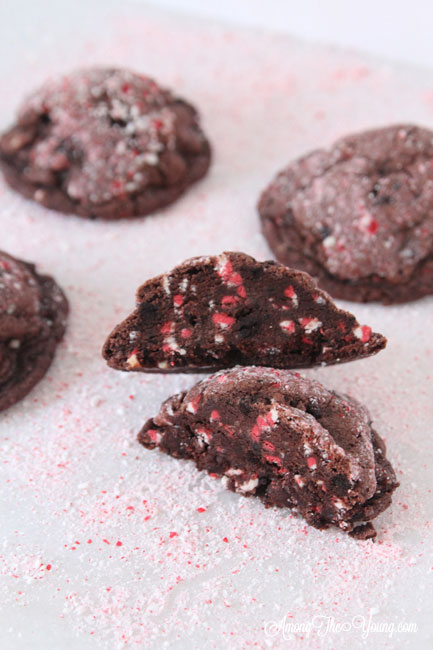 The results?
I mean … WOW.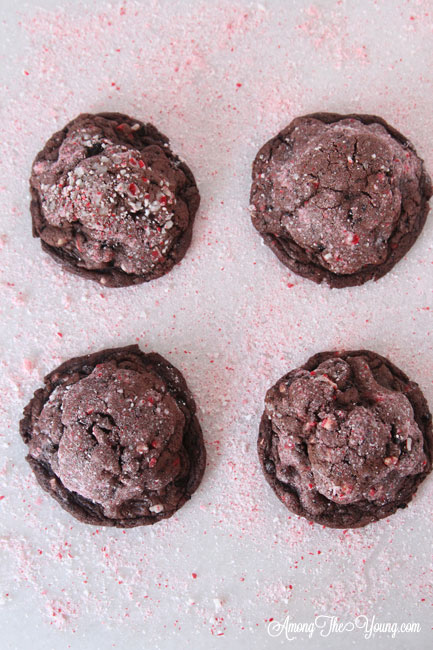 There was no denying they were stuffed full of peppermint. The peppermint cream from the Jo-Jos and the peppermint chips set my cookie above all the others I tried. The chocolate base didn't overwhelm the peppermint of the cookie. There was the perfect amount of chocolate and still tons of peppermint.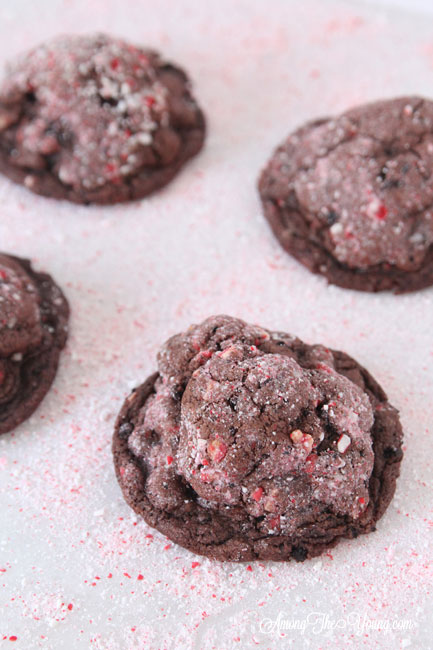 I'm SUPER happy with how these turned out and now I can't wait to share the recipe with you! What's your favorite peppermint dessert?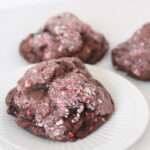 Easy Dark Chocolate Peppermint Cookies
Ingredients
1 1/4

cup

unsalted butter

(slightly softened)

2

cup

sugar

2

eggs

(cold)

1/3

cup

Dark Cocoa

2

cup

flour

1/2

cup

cake flour

2

tsp

cake flour

1

tsp

baking powder

1

tsp

baking soda

1/2

tsp

salt

1

10 oz bag

Andes peppermint chips

1

10 oz

JoJos peppermint cookies

crushed

peppermint candies

crushed
Instructions
Crush candy canes in a blender or food processor. Set aside.

In a bowl, mix all dry ingredients together.

Crush Peppermint Jo-Jo cookies in blender of food processor. Set aside.

Cut butter into pieces; beat butter and sugar until smooth.

Slowly add dry ingredients to the wet ingredients.

Fold in peppermint JoJos and Andes Peppermint chips.

Measure cookie dough to 6oz (these cookies do not require refrigeration before baking)

Roll each 6oz dough ball in the crushed peppermint candies.

Bake 4-5 cookies at a time for 5-7 minutes.

They are done when a top crust forms.
Check out my friends who have some amazing peppermint goodness on their blogs as well:
Alli has these incredible white chocolate white Krispie treats.
Ashlee, as always, comes in clutch with her peppermint French macarons and Yvonne has these divine peppermint tortilla cups … I mean, I have no words!
My must haves to make this recipe:
Do you have a chocolate peppermint cookies recipe that you love?  What's your favorite holiday cookie to bake?  Let me know in a comment below!